Canalys: Tablet market rises 26% as demand for bigger screens surges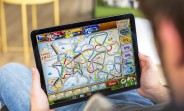 The COVID-19 pandemic pushed a lot of people into confinement in their own homes, leading to a surge in demand for home entertainment solutions. PC and laptop manufacturers recorded massive growth in sales and shipments in the past few months, and the tablet market surged as well.
According to a report by Canalys, the otherwise unimpressive tablet market grew 26% on a yearly basis and all of the top five manufacturers recorded an increase in shipments as during Q2 2020.
Company
Q2 2020
Shipments (in million)
Q2 2020
Market share
Q2 2019
Shipments (in million)
Q2 2019
Market share
Annual
growth
Apple
14.249
38.0%
11.894
40.0%
19.8%
Samsung
7.024
18.7%
5.048
17.0%
39.2%
Huawei
4.770
12.7%
3.300
11.1%
44.5%
Amazon
3.164
8.4%
2.308
7.8%
37.1%
Lenovo
2.810
7.5%
1.838
6.2%
52.9%
Others
5.525
14.7%
5.379
18.1%
2.7%
Total
37.542
100.0%
29.767
100.0%
26.1%
Apple remains a runaway leader in the tablet market with more than double the shipments of its closest competitor, Samsung. According to Ben Stanton, Senior Analyst at Canalys, vendors, carriers, and retailers in mature markets (like the United States) offered massive discounts like 60 days of unlimited data for education-issued tablets, proper online deliveries and improving online sales.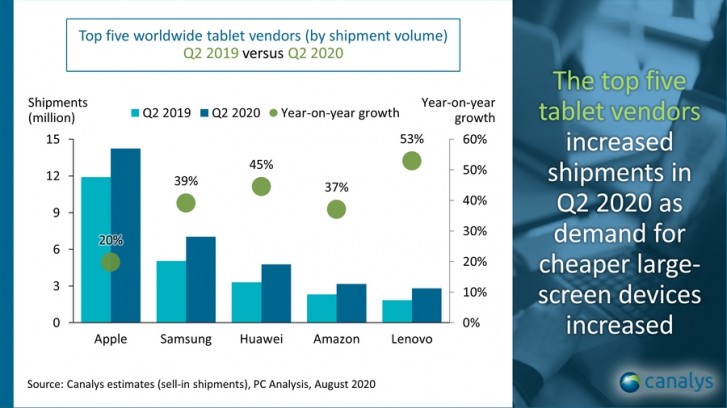 Ishan Dutt, also an analyst at Canalys, revealed that internal competition for communal screens at home was easily solved with purchasing more and more devices, especially when everyone needed one for education, remote work, and entertainment.
The lower than desktops and notebooks price also helped people decide for tablets, and detachable ones were among the most purchased solutions.
?
Cherry Mobile flare tab pro (here in the philippines) it is just 100dollars
p
you missing a talk of lack of windows 10 support on a samsung tablet it's not gonna replace laptops without it ( in my opinion) that's why for now we called like a laptop instead of full laptop
?
Can anyone PLEASE recommend a 10" tablet that has 4g LTE to be able to make phone calls? Thank you.
ADVERTISEMENTS