Canalys: the iPhone 11 was the best-selling smartphone globally in Q3, SE a distant second
The two best-selling smartphones in the world during Q3 were iPhones, according to data by Canalys. The Top 10 chart also features five Samsung phones and three Xiaomi devices.
None of them come close to the Apple iPhone 11, which is miles ahead of the competition with 16 million units sold. Its sibling, the iPhone SE (2020) is a distant second with around 10 million units. While the SE is the cheapest new iPhone, the better feature set created the perfect value for money offering.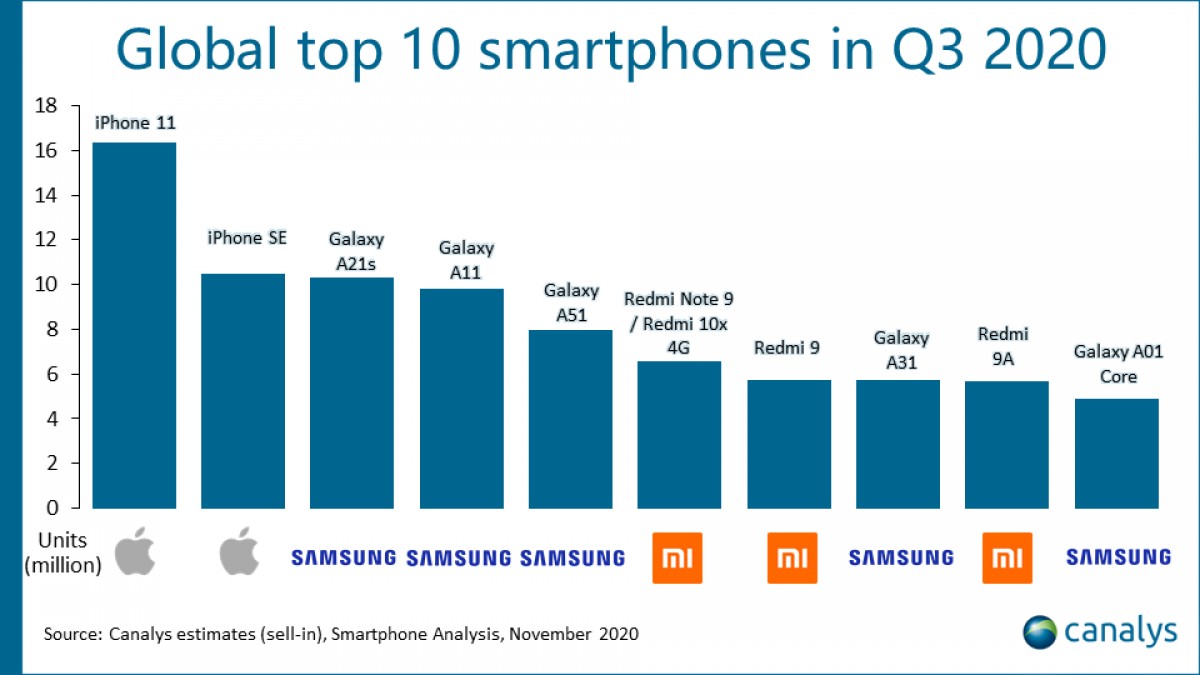 This is par for the course for these two – Canalys' report for Q2 showed that the iPhone 11 made up nearly 40% of Apple's global volume, the SE clocked in at 28%. The iPhone 11 in particular has held the #1 spot in the Top 10 chart for four quarters straight.
The Samsung Galaxy A21s is nearly even with the SE, followed very closely by the Galaxy A11. In fact, the only Samsung phones to make it into the Top 10 are from the lower half of the A-series – the most premium model is the A51.
Similarly, the best-selling phones by Xiaomi are Redmi models, lead by the Redmi Note 9 (including the Redmi 10X 4G version). Not even the Pro model and not the 5G variation either.
No 5G smartphone managed to get into the Top 10 chart during July-September quarter. However, Apple's launch of the iPhone 12 generation and the multiple mid-range Androids with 5G that came out recently may change things in the next quarter.
S
of course this describes NONE of the top 10 phones on this list
S
This is a statistics lesson. Apple sells only about 5 models and they are a big seller so its logical that one of its models hit #1. On the other hand the smartphone market is dominated by Android so it follows that the majority of sales are Android ...
A
Sure a phone that requires to be charged 3 times a day because of its tiny battery qualifies as premium.
ADVERTISEMENTS