Xiaomi is continuing to gain grown in India, the latest data reveals. According to market analysts Canalys, the Chinese manufacturer managed to outperform Samsung for a second quarter in a row and got a 31% market share, while Samsung stayed at 25%. Q1 2018 saw 155% annual shipment growth of Redmi and Mi phones, which translates to over 9 million units. Oppo and vivo came third and fourth in India.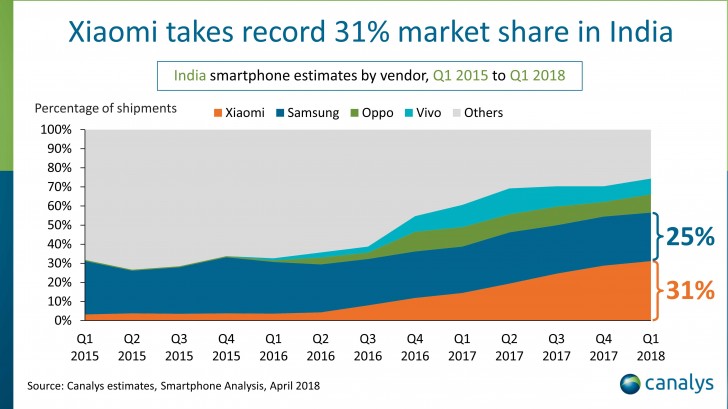 According to Canalys Xiaomi distribution is improving throughout the country, and it appears that the manufacturer's strategies are working. With the recent Redmi Note 5, Redmi Note 5 Pro and Redmi 5A launches, Xiaomi managed to score a lot of sales. The most affordable of all three, the 5A, saw a record number of 3.5 million units move in three months. For comparison, Samsung best selling device, the Galaxy J7 Nxt shipped only 1.5 million units.
The cost disruption model Xiaomi is implementing in the smartphone industry is about to transfer to the TV sector and is bound to pressure big companies such as Samsung, Sony, and LG. This is enabled for two main reasons - low price and widespread brand recognition.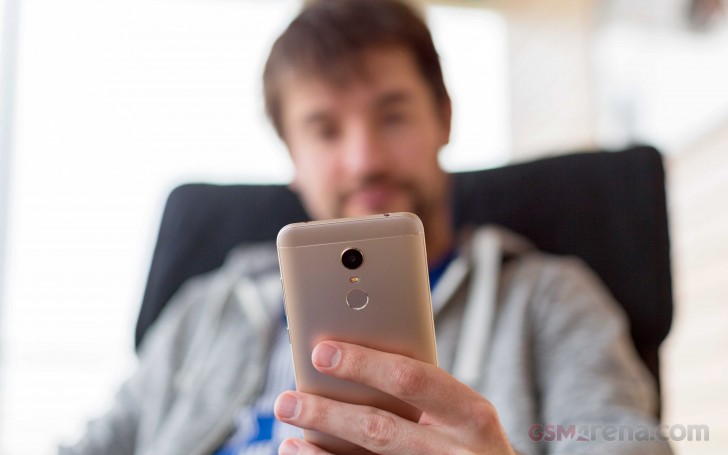 Xiaomi Redmi Note 5
The overall smartphone market continued to consolidate between January and March 2018. Three out of four new smartphones are from one of the top 4 companies, squeezing smaller vendors out of the market.
This picture forces other companies like Gionee and Lenovo to rethink their strategies for the Indian market. Their shipments fell 90% and 60%, respectively, due to not being able to adapt to the local production, offline channel expansion and colossal advertising and marketing costs.
2018 will effectively be "a trying year" for smartphone retailers like Flipkart and Amazon India which have to adapt to the shifting market where relying on competition and low prices might not be a thing by the end of the year.
P
I hope Xiaomi keep pushed with budget price so other manufacturers join them to low the price tag... Eventually the winner will be us when the price is achieved by our budget... Accept reality of life money its anything...logically why you wanna spen...
?
Xiaomi didn't had any competition in india for Q1. Only Honor was there but with only one model. Lenovo was direct competitor, but now there is no phone after last July. Samsung didn't had any major launchings in budget segment. ...
N
Move over Samsung, note 7 disasters on full display.