Canon has launched three new cameras, the EOS M10, the PowerShot G5 X and the PowerShot G9 X.
EOS M10
The EOS M10 is the newest member of the rather small EOS M family, Canon's mirrorless interchangeable lens series of cameras. The EOS M10 has Canon's 18 megapixel APS-C CMOS sensor with ISO range of 100 - 12800, DIGIC 6 processor, Hybrid CMOS AF II with 4.6fps burst mode, 3.0-inch tilting touchscreen LCD, 1080p30 video, built-in flash, NFC and Wi-Fi. The camera supports EF-M lenses by default and Canon's EF and EF-S lenses using an adapter. The camera comes with a new retractable EF-M 15-45mm f/3.5-6.3 IS STM zoom lens out of the box.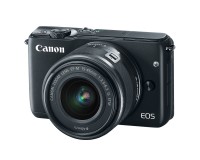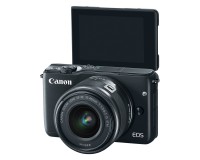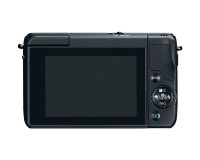 Canon is positioning this as a camera for 'selfies' and for people who want 'Likes', words you'd never thought you'd hear from Canon. The camera is priced at $599.99 with the lens. The EF-M 15-45mm f/3.5-6.3 IS STM zoom lens costs $299.99. Both will be available in November.
PowerShot G9 X
The G9 X is the cheaper of the two new PowerShots, because Canon doesn't understand how numbers work. The G9 X has a 20 megapixel 1.0-inch type sensor with an ISO range of 125 – 12,800, DIGIC 6 processor, f/2.0 - f/4.9, 3x Canon Optical Zoom Lens with image stabilization, 3.0-inch touchscreen LCD, 1080p60 video, 6fps burst mode, RAW mode, built-in flash, built-in ND filter, Wi-Fi and NFC. The G9 X will be available in classic black, or in a retro-style, silver-gray body with brown stitched leather accents.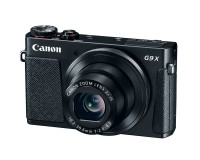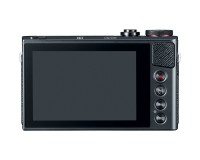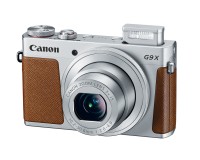 The PowerShot G9 X will be available for $529.99 in November.
PowerShot G5 X
The G5 X is mostly similar to the G9 X but has a few extra things. First of all it has an electronic viewfinder. The OLED viewfinder has a resolution of 2.36 million dots. The 1.04 million dot LCD has a touchscreen and also tils and swivels. The lens is also faster, an f/1.8 - f/2.8 with image stabilization. The G5 X also has more controls and dials and is generally larger and not as pocketable as the G9 X.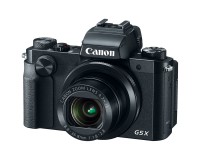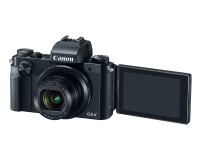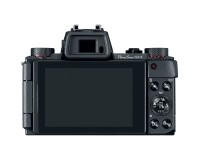 The G5 X will be available for $799.99 in November.
S
They really dont know numbers! How hard for companies to not mess series buy giving numbers and letters haphazerdly!!!
K
Canon has a system for the SLRs where the lower amount of digits is the 'higher mode' ie: 1D, 5D vs 7D, which I guess they're starting to go with for the M series