Just a couple of hours or so after a leak showed us the alleged schematics of the upcoming Samsung Galaxy S6, now we get some new renders of the device.
These are showing it inside cases designed by Verus, a company which claims that the following images are based on the actual size measurements of the highly anticipated smartphone.
So while the design shown here for the handset may not be a 100% accurate representation of the final product, the dimensions and proportions should be. We also assume the curves are accurately portrayed.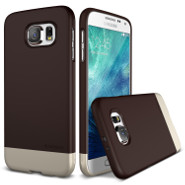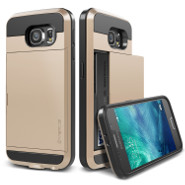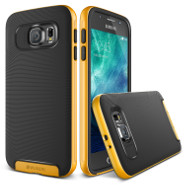 More Samsung Galaxy S6 renders
Of course, as the phone is in a case in all of these renders it's not easy to form an opinion about its design, or its size. The placement of the rear camera and its LED flash seems to be settled, though, as we've already had many leaks saying it would be exactly where you can see it.
Past rumors told us that the Samsung Galaxy S6 would be 143mm long, 70.8mm wide, and 6.91mm thick. It's said to have a metal frame, and perhaps a glass back.
When it comes to specs you should expect a 5" or 5.1" QHD (2,560x1,440) Super AMOLED touchscreen, a 20MP rear camera with OIS, a 5MP front snapper, and 3GB of RAM. Running the show could be Samsung's Exynos 7420 SoC with an octa-core CPU.
The smartphone will be unveiled on March 1 in Barcelona at MWC.
N
Ok. OK. What is ur Nickname again... SAMESUNG.. Hmmm. ok we got the idea u love ur iPhone...And Claim that u have an S5 which I'm sure u don't... I don't know what is ur goal of all the talk u said about iPhone's.. iOS and it's greatness smoothness...
?
Not everyone likes big screen size.. samsung trying to differentiate note and s series... You do not know about exynos... battery won't be a problem..
?
will be the S6 water proof/resistant ? cuz there were no cover for the usb/charging port on all photos i ve seen...