The LG G3 challenges the iPhone 6 to a leak-a-thon! LG's upcoming flagship has leaked yet again, from a new source. There are a number of cases for the LG G3 available on Amazon, some of which are even on sale! Never mind how when the phone isn't even official.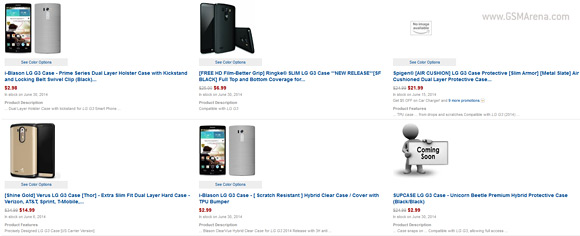 At least some of those cases are more attractive than the rugged case we saw last month. Unfortunately, they don't give us much info on the upcoming flagship, other than plenty of images to gawk at, in case you haven't seen the unique back and bezel-less front enough times. Gray, Black and Gold seem to be the launch colors for the LG G3.
Anyway, the steady stream of leaks might finally come to an end a week from now – LG will be unveiling a phone on May 27. Rumored specs include a 5.5" QHD screen, Snapdragon 801 chipset, 16MP camera and a water-resistant body.
D
you are really reaching there. I have a g2 and never put a case and its all good. Funny how people like to complain about nothing
?
The irony of LG phones. Too frail to use without cases. The tiniest impact = scratch.... I wonder why they do not follow sony, most of them can run case-less. Or S5, the back already is a case.
S
If this is an image of the Korea version then it could be a TV antenna too (most SK phones have them).