Casio announces G'z EYE series of rugged action cameras starting with GZE-1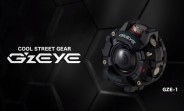 Casio has announced a new series of rugged action cameras, a first for the brand, called the G'z EYE. The first model to be launched in the series is the GZE-1.
The GZE-1, which looks remarkably like the company's G-Shock series of watches, is like an armoured version of your typical GoPro camera. The body is dust, shock, water and low temperature resistant, making it suitable for use even in the harshest of conditions. The camera works underwater up to 50m without requiring any additional case and in temperatures as low as -10°C. The similarity with G-Shock watches is intentional, as the GZE-1 uses similar cylindrical guard structure and urethane resin material to absorb shocks and impacts.
As a camera, the GZE-1 has a 1/2.3-inch BSI CMOS sensor with an effective resolution of 6.9MP. The camera can capture 6MP still images and 1080p30 video. You can also record slow motion video in 240fps at 384p or 120fps 480p. The camera a 13mm f2.8 lens for wide-angle photography. Built-in Bluetooth allows you to control the app from Casio's smart watch or transfer images to the mobile app.
The Casio GZE-1 is priced in Japan at 46,000 yen, which is about $410.
D
I think they should've invested more into specs. Although the sensor, a big 1/2.3 inch with a low resolution of 6MP might suggest strong low light performance, I guess...
G
1080p30 video / 240fps at 384p or 120fps 480p ... what a Joke
D
The specs are a bit unimpressive, but it's build, definitely is not. That thing looks as tough and rugged as a G-SHOCK and I think it will run circles around a GoPro as far as durability is concerned.