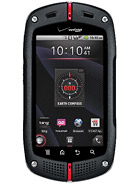 D
Is there any idea when they are coming out with a newer updated version of the phone?
h
wawan, 20 Feb 2012Very nice Is it actually fully waterproof. I have the EVO 4g, should I replace it with the commando.
r
is this available in srilanka.. please inform i'll pay what ever it cost...
B
why when i use the flash the flash stays on and do not work whit the shutter
C
that is what i'm absolutely precisely talking about!
thanks casio crew for this.
i just wish it was available for sale inside my region, where it is really needed to be.
Total of 34 user reviews and opinions for Casio G'zOne Commando.