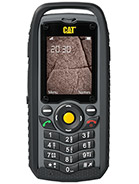 N
Really great phone, DIP it few hundred times in JAR full of beer , even called when he was in the JAR no remarks , works perfrctly...
The best phone i ever had
B
I have problem with this cell phone the mic is very bad.
When someone call who ever has the phone is very hard to hear what he says.
the mic is muffed.
D
Good question Spyros , no answer ? anyone? Well, I am tepted to buy it...
m
what is the resolution and fps of recorded video ? is it posible to record video/take pictures under water ?
S
Which is the actual S.A.R value (head and body) for Europe frequencies?
Which is the actual stand by time for normal use?
Can you assosiate your own melodies from the memory card as ring tones?
Thank you.
Total of 68 user reviews and opinions for Cat B25.