The new CAT S60 is more than a smartphone - it's a professional tool. It's the first smartphone to feature an integrated thermal camera.
It can measure the temperature of objects from 15m-30m (50ft-100ft) away and can even see through smoke. It can, for example, be used by firefighters to look for people in a smoke-filled building or just a contractor to check your insulation.
The thermal camera is courtesy of Flir, a Lepton module, and shows 80 x 60px thermal video.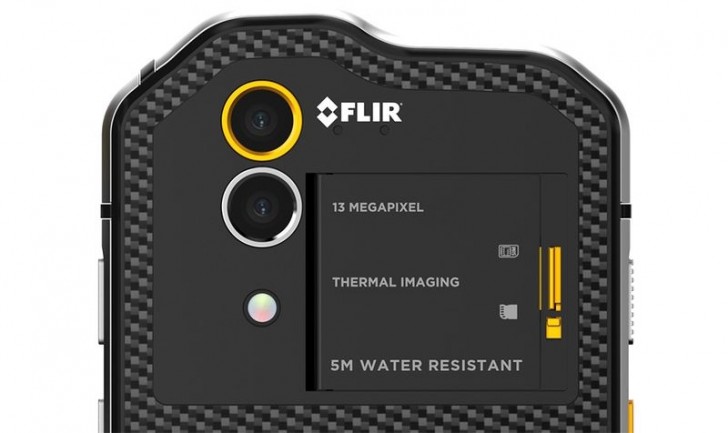 Anyway, the CAT S60 goes beyond casual smartphone toughness. If you batten down the hatches (closing the mouth and earpieces with the yellow covers), it can go under 5m of water. Otherwise, the limit is 2m.
CAT dropped the phone 26 times from 1.8m (6ft) to make sure it survives hard hits. The display is covered with 1mm Gorilla Glass 4 (normal phones get 0.4mm) and very bright - 540nits. The touchscreen works with gloves, of course.
You also get a beefy 3,800mAh battery to last you a long day at work and a 105dB loudspeaker. The rest of the CAT S60 put it in the mid-range - 4.7" 720p screen, Snapdragon 617 with 3GB of RAM and 32GB storage. The phone runs Android 6.0 Marshmallow and offers 4G LTE connectivity. There's also a 13MP main camera, 5MP selfie cam.

The CAT S60 will be shown off at the MWC and will retail later this year for $600/€650. Keep in mind that a Flir One (a smartphone add-on thermal camera) alone costs $250.
A
Please Advise I want to bay. CAT 7733S60
r
maybe is too much to ask, but if by any chance the manufactures or research team read this: * a small solar panel on the back could be use full when away from electricity ** a GPS application without connectivity to towers (maybe an electronic s...
S
I think next time anyone makes any comment, look at pros and cons, I do search and rescue ops, believe me that this would help a great deal, as we don't always have a flir to our disposal, this will make it much easier to find the casually. So if pe...
ADVERTISEMENTS