The Russian company that makes customized iPhones with a golden plaque of Donald Trump and Vladimir Putin now launched the iPhone X Tesla with a solar panel on the back. This is the second Caviar-modified Apple flagship this year after the meteorite-coated iPhone X in September.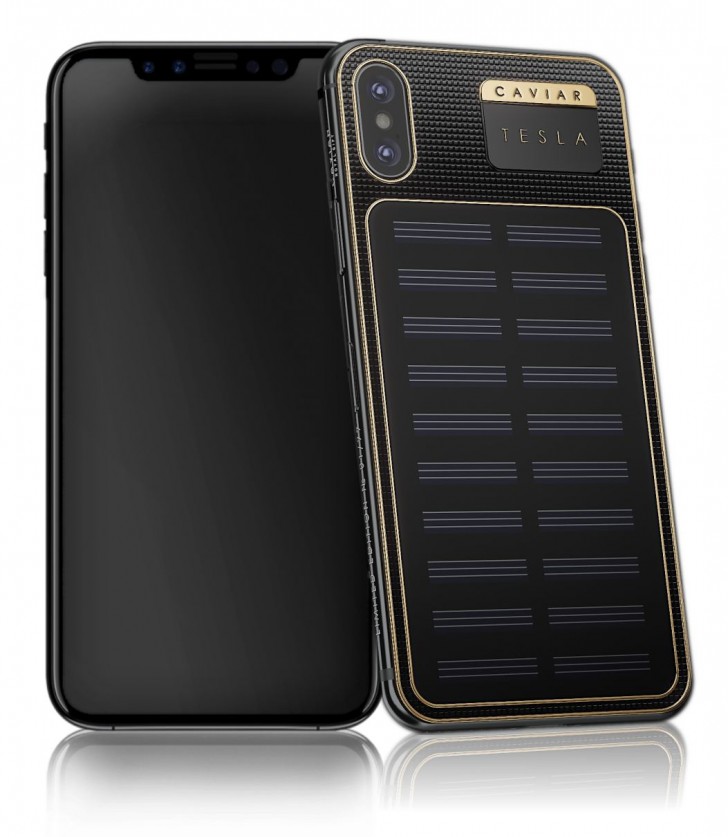 According to the company, you just need to leave your phone laying on its face, and the back gathers sunlight to charge the device. The body also has PVD coating and shockproof plate. There is also a golden plate next to the camera setup because why not.
The company directly replaces the glass body with a titanium one. It also has 24K gold rims around the back edges and the camera bump.
Caviar says the self-charging iPhone X is inspired "by three great scientists Nikola Tesla, Steve Jobs and Elon Musk", although we doubt any of them would have such a questionable fashion choice for a handset.
The launch of the regular iPhone X is tomorrow, but the Tesla version release will be announced additionally. We hope you have a hat to hold on to, because the price of the modded phone with 64 GB storage is RUB259,000 or $4,445. If you want 256 GB, you have to shell out RUB274,000 or $4,700.
Source (in Russian)
what about buying a solar back as cover? which goes around for 60$? it's a cover and a solar back. 2 in 1.
Charge it with daylight is better, sunlight is heating up.
You seem to not understand sunlight charging. It needs light and not straight from the sun to work and make energy. The time your phone is idle on the desk it can charge for free. But this crazy over priced phone that is already over priced as s...