Caviar unveils custom iPhone 13 Pro collection that is inspired by Rolex watches
Is it a fashion faux pax to have a phone that doesn't match your fancy Rolex watch? Probably not, but why risk it – Caviar created a series of custom iPhone 13 Pro and 13 Pro Max phones that are inspired by various Rolex watch models.
For example, the Olive Rays has a sunburst pattern reminiscent of a watch face, below that are metal links made out of titanium and gold-plated metal like an upscaled Jubilee bracelet. This one was inspired by the Rolex Datejust collection, which has been using Jubilee bracelets since it was introduced in 1945 to celebrate the 40th anniversary of Rolex.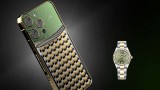 Caviar iPhone 13 Olive Rays, inspired by the Rolex Datejust
The Yacht Club phone takes after the Rolex Yacht-Master II. It features a bronze-titanium panel and a pink on blue watch bezel, plus a bronze frame.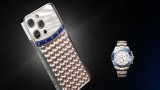 Caviar iPhone 13 Pro Yacht Club, inspired by the Rolex Yacht-Master II
The Dark Sky takes after the Rolex Sky-Dweller, specifically the REF 326238. It encircles black stained oak with gold plated metal.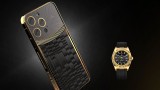 Caviar iPhone 13 Pro Dark Sky, inspired by the Rolex Sky-Dweller
The Meteorite is inspired by the Rolex Cosmograph Daytona. The top part of the back is made out of real meteorite material, the bottom is polished titanium with black PVD coating surrounding a carbon fiber panel.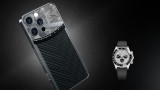 Caviar iPhone 13 Pro Meteorite, inspired by the Rolex Cosmograph Daytona
These four will be available for around $6,000-$8,500 depending on whether you want an iPhone 13 Pro or 13 Pro Max as base and how much storage you need.
The Benvenuto is based on the Rolex Cellini, both the watch and the phone are named after Renaissance goldsmith, jeweler and sculptor Benvenuto Cellini. This one is by far the most expensive of the bunch with a starting price of around $25,000. The sunburst pattern is engraved into 18-karat white gold with 18-karat rose gold decoration, the back is genuine crocodile leather (brown).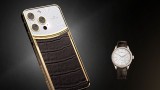 Caviar iPhone 13 Pro Benvenuto, inspired by the Rolex Cellini
Only 99 copies will be made out of each design. You can head over to the Pair of Kings page on Caviar's web site to learn more about the phones.
The inspiration behind this collection and the in-depth knowledge of Rolex designs it is based on comes from Caviar founder Sergey Kitov. "Rolex is my favorite watch. And Caviar is my favorite creation. So I wanted to combine the best of these brands in one luxury device. That is why I called the collection 'Pair of Kings'. Because Rolex is the King of watches and Caviar is the King of custom smartphones and accessories," writes Kitov.
D
Oh my god people arent even judging by ti's material for its rice but that's its *ugly*. And just because I cant afford it doesn't mean ur gonna go on and hate it and say *ugly*. It's meant for rich people and only rich people can...
M
Repetitive design, could have been more creative.
M
So the iPhoone will get cheaper now.
ADVERTISEMENTS