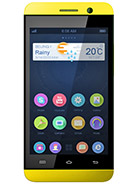 d
i want to buy this mobile , plz tell me sugetions @
n
nice phone in less price.

this supports many high graphic games.

i played CSR racing,sports car challenge2(1.2GB),Fast and furious 6,blur,drift mania street out laws,plants vs zombies

plays 720p MKV files without any lags with VLC player.

camera is not good,and ram is not sufficient for big games,v need to clear memory everytime when v play the game.

overall i can give 3.5 outof 5 for this

CONS:
1) multitouch support
2) ram insuficient for more than 300MB games only.
3) no proper sensors like other phones like KARBONN A12 and SPICE STELLAR glamour.
4) Camera clarity and missing LED flash.

PROS:
1) manages games near 1GB also and plays them smooth with out GPU FORCING.
2) sevaral new features like voice typing (online mode only) face detection,and several features of JELLYBEAN.
3) excellent VIDEO and audio playback even though its MKV or RMVB or any file.
4)easily fixed in hand :P and free to take anywhere :D
5) audio is pretty decent.

this is best for a normal user. with good looks which catch ones eyes.
D
Very Stylish model with affordable price
R
Very stylish model with affordable price
Total of 68 user reviews and opinions for Celkon AR40.