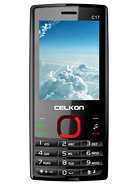 d
i cannot find vibrator inside it !
g
i am forgot password,how to change privacy password?
p
khaja, 16 Jan 2013internet and games and thems no this mobilei want to internet facilities
m
battrey is not working properly you have to pay for this problem
n
vibration is not there , while we receive call the phone will just ring and not vibrate ........... i want ring with vibration
k
internet and games and thems no this mobile
K
ok...worth for this rate with specifications.
s
fine but not very well simply good for communicate
R
OK, but keypad and sound is not good, ear phones are useless. screen clarity awesome.
Total of 10 user reviews and opinions for Celkon C17.