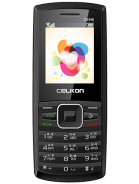 D
Hi friends.. This feedback of mine follows my previous two reviews of the lovely mobile handset.. Now, it is more than two months since I started using c349i.. Well, with each and every passing day, this compact device is just getting more and more lovely.. Every aspect of the mobile fully meets the requirements of users seeking a moderately-priced handset providing all the basics.. Call clarity, Internet, MP3 player, battery back-up, etc, etc.. everything is more than satisfactory.. MY VERDICT: No need of second thoughts; just rush to the nearest store and get Celkon c349i. U will not be disappointed.
D
AnonD-281465, 08 Jul 2014A friend of mine who has been using C349i for the past 6 months recommended it to me. Though I... moreHi.. This is a continuation of my initial review of C349i published on 8-7-14.. Then, it was just 24 hrs since I started using this wonderful phone.. As mentioned there, this review does in no way vary from my first one.. Now, I have been using this lovely device for nearly 3 weeks, and I am more than happy with its performance.. The battery back-up has significantly improved after the first few cycles of discharge and recharge.. Call clarity is superb and the excellent design of the keypad facilitates typing of text messages at a brisk pace.. The MP3 player is loud and clear.. There were couple of instances where I fell asleep in the night with the songs continuing to play.. Though the audio player was active for the whole night, I was surprised in the morning to see that still one point of battery charge was left.. I also clicked some snaps with the camera of this lovely offering from celkon, while on an outing with family.. The photos were decent for a phone costing just Rs. 1000.. Internet is good and connection speed is satisfactory.. The only minor flaw is that the default ringtones, even at maximum volume are not that loud.. Well, when u are getting so much by paying so little, somewhere u have to compromise :) MY VERDICT: If u are seeking a low-cost device that provides all the basic features essential in the contemporary World, just go ahead and get Celkon C349i.
D
A friend of mine who has been using C349i for the past 6 months recommended it to me. Though I bought the mobile just 24 hrs back, I am thoroughly contented with the features provided. The clarity of voice (at both ends) during calls is very good. The speed of Internet is decent for a device costing just Rs. 1000. I was pleasantly surprised by the good quality of images generated by the phone's camera. In the given price range, there must be very few mobiles providing such a good camera. The clarity of MP3 player warrants special mention, too. I will come out with another feedback of C349i after few days, about which I am confident that it would in no way differ from what I presented here.
M
bought with 900 bucks
good call clarity but if the adjustment of volume is same with normal and loud speaker
normal camera
music comes with list but not with folders is negative
the sound of music is marvellous
ear phones with mini usb but not with 3.5mm jack
simple features with slim desigh
back up is very good, battery is like nokia, compared to nokia this is very good
A
This is very nice mobile, justification for the cost. and every thing is good, especially autocall record, even we cant find this feature in most of high cost mobiles, and cam clarity is good (not worst),audio and video players are good, internet is also good (but small screen), finally at this cost the mobile is very fine........Presently i am using it
Total of 10 user reviews and opinions for Celkon C349i.