Huawei Ascend D2 hands-on
Of the two Huawei devices announced today, the Ascend D2 is undoubtedly the more interesting offering. Its more compact 5" screen packs double the pixels of the Mate and the camera resolution has been upped to 13MP.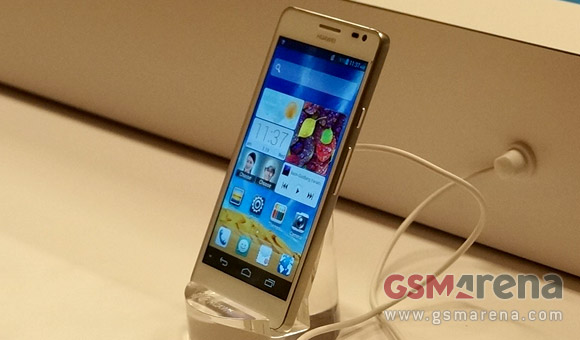 The Ascend D2 body is made of aluminum through an elaborate process that Huawei was quite proud of and we have to say the phablet does feel good in the hand. It helps that it weighs 170g and measures 140 x 71 x 9.4 mm - dimensions, which feel quite manageable after handling the Huawei Mate. Additionally, the D2 is built to provide IP54 level of dust and water resistance.
The screen is pretty impressive - 5" big of 1080p resolution and 440ppi, it's ready to take on the likes of the HTC Butterfly and the newly announced Sony Xperia Z and Alcatel One Touch Scribe phablets.
The screen uses IPS tech for improved viewing angels and Gorilla Glass for scratch resistance. There's no word on Magic Touch though (the tech that allows the Mate to detect touches even when the user is wearing gloves).
The back of the Huawei Ascend D2 packs a 13MP camera with a BSI sensor. The camera software offers HDR mode and manual color temperature adjustment. The D2 can shoot 1080p video.


The Huawei Ascend D2 sized up against the Samsung Galaxy Note II
Huawei claims that the Ascend D2 is great for hands-free talking as its two microphones have no problem picking up sound from 1.5m away and the speaker audio is enhanced by Dolby surround sound. Unfortunately, the Huawei press conference venue is much too noisy to properly test either of these features.
On the inside, the D2 packs the same proprietary K3V2 chipset with quad-core processor clocked at 1.5GHz and 2GB of RAM. It will run Android 4.1 at launch with a customized launcher, which once again omits the app drawer.
The phablet has 32GB of built-in storage that isn't expandable, so extreme audiophiles and film buffs may have some trouble fitting all their content. It should be more than enough for the vast majority of users though.
The battery is slightly smaller than what the Mate has, but at 3,000mAh it's still bigger than most smartphone batteries out there. The fast charging tech reportedly results in 25% faster charging times than the Samsung Galaxy S III. The wireless connectivity has been tuned to use less power (10% savings for the cell connection and 20% savings for the Wi-Fi).
Also, check out this hands-on video we shot of the Ascend D2: