BLU at CES 2015
CES 2015: BLU Vivo Air, One Life, Studio Energy hands-on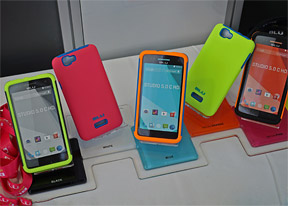 Introduction
BLU may be a comparatively small operation, but it brought out a lot more phones to CES 2015 than most of the big players. They range from supremely thin to super-juiced, but none of them go north of the $200 mark off contract.
The company is headquartered in Miami, Florida and instead of manufacturing its own devices it puts its own spin on existing products and brings them to the US market. Still, considering how difficult it can be to import a phone from a little-known maker in Southern Asia, the BLUs may as well be original devices for their market.
Again, they are priced on par with the Moto G or below, but bring some unique features. The BLU Vivo Air is a thin, light sliver of aluminum-magnesium alloy. It measures just 5.1mm thick and weighs less than 100g, while packing a Super AMOLED display and an octa-core processor.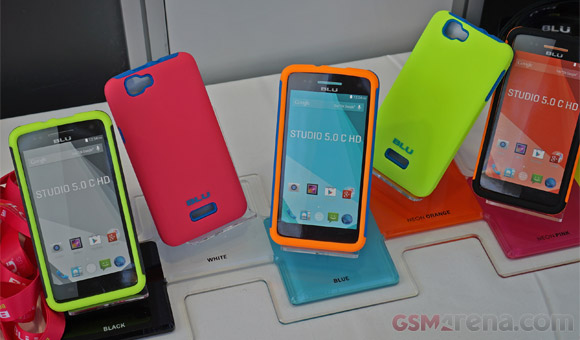 The BLU Studio Energy solves a different problem - the energy crisis of a battery running low. With a 5,000mAh capacity, the phone does not need after-market battery packs. In fact, it can replace one by charging other gadgets. And if it keeps all its juice to itself, it can last over 50 hours of talking on its two SIM cards.
Then there's the BLU Life One and Life One XL. They share their design and hardware, differing mainly on screen size - 5" and 5.5" respectively. These two bring LTE connectivity and 64-bit processors to the table, topping the current iteration of Moto G.
The BLU Studio X and Studio XL serve as lower-cost alternatives to the Life One duo. They drop the LTE and the price and gain a second SIM slot.
The Studio G is cheaper still and sets its sights on the likes of the Microsoft Lumia 535. All three Studio phones along with the Life One duo will be updated to Android 5.0 Lollipop (they'll launch with 4.4 KitKat).
We also got to meet the BLU Studio C and C Mini, which were announced a while back. The Studio C Mini is a slightly more compact alternative to the Studio G, while the Studio C is closer to the Studio X.
D
Best phone ever does all my work two diffirent sims cant be better!One problem occured recently two days aback everything went blank on the back of my screen where i can't see my time battery % time, neitheri can slide down to get into my settings ba...
A
Hello my blu studio g is not work 3g display only E not H haw can fix this i was try network setting 3g service enable but neatwork is off and the display is show X. Pleas help me somebody
A
Hello my blu studio g is not work 3g display only E not H haw can fix this i was try network setting 3g service enable but neatwork is off and the display is show X. Pleas help me somebody