BLU at CES 2015
CES 2015: BLU Vivo Air, One Life, Studio Energy hands-on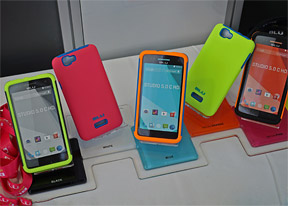 BLU Vivo Air
On paper the BLU Vivo Air is one of the best phones ever made - it barely measures 5.1mm thick, it weighs less than 100g, has a Super AMOLED display and is powered by an octa-core processor. It's going on sale in a week or so and will cost you just $200.





BLU Vivo Air in White/Gold and Black/Silver
Too good to be believed? Well, credit where credit is due, the aluminum-magnesium alloy provides a premium feel and rigidity to the device, while Gorilla Glass 3 guards both the front and the back. It's a beautifully designed device too, minimalist but minimalism done right. And you can always impress people by letting them handle it, it takes a while to get used to how thin and light it is.



The Vivo Air is so thin it nearly gave us paper cuts
The screen is 4.8" big with 720p resolution - that's 306ppi, basically what the Galaxy S III had. It's priced on par with the Moto G and the extra contrast and punchier colors tip the scales in BLU Vivo Air's favor.
It has twice as many CPU cores to boot - part of a MediaTek chipset. The RAM is limited to 1GB, matching the Motorola, and the software is a step behind. It's customized Android 4.4 KitKat with no official plans to update yet. The software runs fluidly, though heavy multitasking is not in its wheelhouse.
Unlike some similarly priced BLUs (more on them in a minute), the Vivo Air lacks LTE connectivity. The 2,100mAh battery is smaller than what some Android are packing, but it's more than an iPhone 6 has (actual battery life is another matter).
The camera on the back is good for 8MP stills and 1080p video, while the front one takes 5MP selfies. The storage is 16GB and there's no card slot so that's all you're getting. That was one iPhone "feature" we wish the Vivo Air did not have.





5MP selfie camera on the front • 8MP/1080p camera on the back
And no, you're not having a deja vu, this is the same hardware as the Gionee Elife S5.1.
BLU Studio Energy
We can't hold the 2,100mAh battery against the Vivo Play, it's all about looks. The BLU Studio Energy is not as vain and packs a massive 5,000mAh battery. Some battery packs come with this much - or less - and the Energy can indeed be used to charge other gadgets.




A massive 5,000mAh battery hides in the casual-looking body
The phone is not thick either, at 10.4mm it's double the thickness of Air, but it's quite usable. It's a better solution that sticking an aftermarket battery case on your phone. One downside is that it's a hefty device, weighing in at 180g. Again, better than what you get with 3rd party packs but more than most 5" phones.
The screen is an IPS LCD, but other than that, it's 5" 720p with Gorilla Glass 3, same as the Vivo Air. The BLU Studio Energy is powered by a weaker chipset - or should we say less power-hungry - than the Air and runs Android 4.4 KitKat with dubious update prospects.





The microUSB port can put out enough electricity to charge other gadgets (if you have the right cable)
The upside is that talk time is rated at 52 hours and there are two SIM cards. If you need to make a lot of calls and can't stay long near a wall socket, the Studio Energy is the one to have.
The design is not a head-turner but isn't bad either and there's an 8MP/1080p camera and 3G connectivity (21Mbps), a memory card slot too. At $180, the BLU Studio Energy makes a good backup phone, unless its weight is not an issue, then it's a good mid-range daily driver too.
BLU Life One and Life One XL
Budget devices aren't the core market driver in the US where BLU operates, carrier subsidies often mask the true cost of a device. The country has one of the most developed LTE networks though (carries certainly push it as a must-have).





BLU Life One and Life One XL share their design, but differ in size
The BLU Life One and Life One XL duo skips MediaTek for Qualcomm and its Snapdragon 410 chipset enables 150Mbps downlink speeds and faster 42Mbps 3G at the same $180/$200 price tag, depending on the size.
The One Life has a 5" screen while the XL goes up to 5.5", both 720p IPS LCDs and Gorilla Glass 3 protection. 720p is a bit of a stretch on 5.5" but is passable for a mid-ranger. That said, the anodized aluminum frame makes the Life duo feel more premium than its price tag suggests.





The mostly ordinary exterior is perked up by the aluminum frame
There's another perk of the Snapdragon chipset, the Life One and Life One XL may be running 4.4 KitKat now but an Android Lollipop update is in the cards. A 13MP/1080p camera plus a microSD card slot are two more features that this duo has on the Vivo Air. You'll need the card slot sooner rather than later since there's only 8GB of built-in storage to start you off. At least BLU kept the 5MP selfie camera, which is another selling point in the US.
The two One Life come in a special color option called Sandstone Gray, basically the same material that covers the OnePlus One. We're not the biggest fans of it, but it has its proponents.
One potential weak point for the two is battery life. The 5" model has a 2,420mAh battery, barely bigger than Vivo Life's battery. It measures 7.5mm thick, which isn't bad but should have been enough for a bigger capacity.
The Life One XL does even worse in the battery capacity/phone size chart with its 2,820mAh battery and 8.3mm thickness (in addition to being taller and wider).