LG Aka hands-on
Do you want your phone to have a personality? With LG Aka your phone will be able to look at you. Literally. And the looks can be different depending on what you have done...Received, we meant received. Either it's a new message, a missed call, new social notifications, or similar, LG Aka will give you a unique look and you'll know what's going on immediately.
LG Aka is s decent mid-range phone with a 5" IPS screen of 720p resolution, and runs on a quad-core 1.2GHz processor with 1.5GB of RAM. There are also an 8MP rear cam, 16GB expandable storage, LTE connectivity and a 2,610 mAh. The Android OS in charge is KitKat.
There are four Akas - Eggy is yellow and easily falls in love, Wooky is white and is a bit of a bully, YoYo is pink and has difficulties sticking to its diet (so its weight yo-yo's) and Soul comes in Black and is a music lover. There's a backstory about the Akas, which involves an alien invasion.





LG Aka and its alien characters
The Akas look really great and very similar to most of the G-series - the volume rocker and the power button are on the back, while the 8MP rear cam features a laser-assisted autofocus option.
As we said, the Aka's eyes serve as notifications. They get dizzy when you shake the phone, they look down when you need to take the phone out of the case (i.e. there's a notification) and so on. Eye color changes from red to green to indicate different emotions.
LG is selling all the proprietary cases separately, so if you get tired of your Aka's original personality, you can easily switch it just by getting it a new case. There's a point system associated with buying new accessories for your Aka, an interesting (if a bit questionable) monetization strategy from LG.





LG Aka's cases are exchangeable as is its personality
The cases are glossy, while the rear of the Aka is made of matte textured plastic as are the rear keys.
LG Aka, whatever the personality, seems like a very clever and original idea, which will be appreciated among lots of different type of users.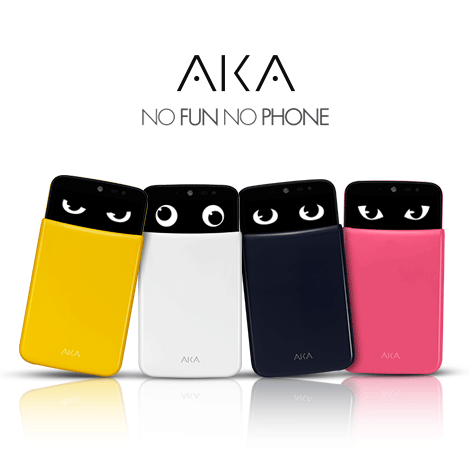 Currently the LG Aka is available exclusively in South Korea for $450, but now that we find it at CES, there is a chance we see it escape its homeland very soon.