Samsung at CES 2015
CES 2015: Samsung Galaxy A5, Avengers movie props hands-on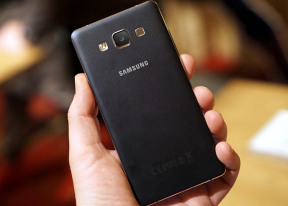 Samsung Avengers tech hands-on
Samsung has been rather lacking in mobile tech announcement at this year's CES with only a few devices premiering (Galaxy E7, E5, A5 and A3) and technically not as part of the press conference itself. This however does not mean that the Korean tech giant went over to Las Vegas empty handed.
A few interesting TVs along with a new SUHD technology graced the podium at their press conference along with an array of Kitchen appliances, audio equipment and even smart vacuum cleaners.
But sadly, that has little to nothing to do with mobile tech, which we were really hoping to see. Walking by the Samsung booth, however a rather peculiar showcase caught our attention and it definitely falls more in the realms of our interest.
It appears that Samsung was responsible for the tech props used in the recent Avengers movie and the giant did not miss to showcase them.
First on the list is smartwatch with a 1.9 inch curved display very reminiscent of the Samsung Gear S. It looks very slick with what appears to be a metal finish and a nicely shaped strap. Frankly, it is kind of a beautifully re-imagined version of the recent Samsung wearable.
It looks a lot more premium in terms of materials and the lack of a button on the front makes the whole thing flush, but the large Samsung logo kind of gives away its true marketing agenda.




Avengers smartwatch reminds a lot of the Gear S
Second on the list are two futuristic-looking earpieces, complete with large curved displays. Both appear very high-tech, but kind of over the top, especially the golden one. Again the company logo is front stage center, but again that is to be expected.




Futuristic Avengers earpieces, complete with curved display
Finally, we see perhaps the most intriguing item of the bunch - Tony Stark's own device, dubbed simply - "Smartphone". It looks out of this world with a large 6.9 inch transparent part, which is identified as a transparent display and a wider solid bottom part that should supposedly hold the rest of the hardware. It is also complete with its own 3.65-inch curved display, covering it edge to edge and a nice silver strip tying the whole design together.
It is truly the stuff of dreams, especially after taking into account all it has done for Tony, aiding him to defend the World.




Tony Stark's very own Avengers smartphone
The Avengers display is a nice little marketing touch that is sure to appeal to tech geeks and Avenger fans alike.
Interestingly enough, the curved displays on the separate pieces do look very real under closer examination.
Although it is extremely unlikely that any of the device actually work, the panels themselves might just be the real deal, making the exhibition all that cooler.
When you think about it, the tech to power these futuristic gadgets is all pretty much a reality, even the large transparent smartphone display, which is an exciting thought, to say the least. But until anything similar makes its way to consumer devices, we can only marvel at exquisitely crafted models like the ones brought by Samsung to CES 2015.