LG K10 (2017)
As previously mentioned, the K10 is the very best the new "K" line currently has to offer. It is the biggest of the bunch, with a 5.3-inch HD display. The panel in question looks plenty sharp and the 2.5D curvature towards the edges adds a little bit of premium feel to the mix. Its other hardware includes an octa-core MediaTek MT6750 chipset and 2GB of RAM. While squarely in the mid-range realm, these specs are still better than the rest of the "K" lineup.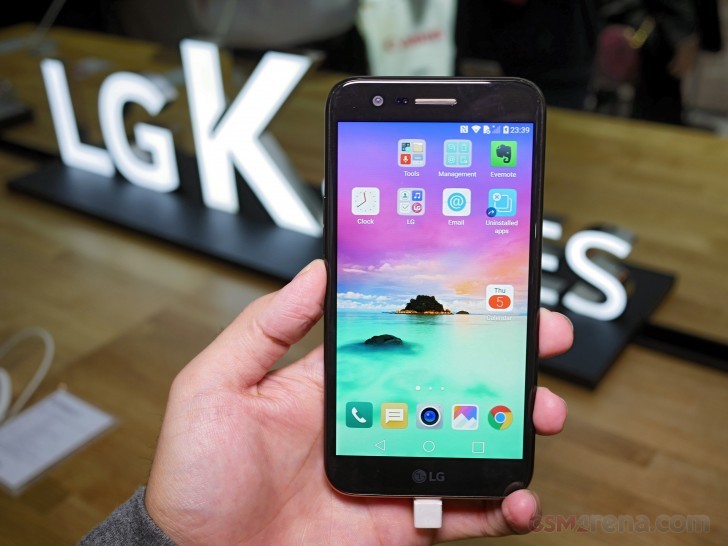 The K10 is also the only one to come with a fingerprint reader. It is mounted on the back and is pretty snappy and accurate. No complaints there. However, the scarce 16GB of built-in storage is a lot less satisfactory. At least there is a microSD card slot to lessen the blow.
Going back the the outward appearance of the K10 for a bit - its 148.7 x 75.3 x 7.9mm, 142 gram body does look sturdy and pretty stylish for what it is. Plastic is the material of choice all around and there is still a lot to be said about its benefits. That is why, we don't really care all too much for LG's added effort to mask it as metal.
One obvious benefit of the traditional plastic approach is the ability to easily incorporate a removable battery and back cover. Plus, the overall shape of the body feels nice and ergonomic.
Back to the nuts and bolts, we didn't really have time to properly test the MT6750 in terms of performance, but we will definitely do that once the K10 comes by the office. In the meantime, we can report that the UI and typical tasks all ran really smoothly. While at it, we can't fail to mention that the phone already runs Android 7 Nougat out of the box. The extra effort on LG's end shouldn't go unnoticed.
In the camera department, the K10 offers a 13MP main shooter. Again, it is too early for any proper quality assessment, but LG does boast that the module in question was once used in a flagship G-series device. That could potentially be the G3, or perhaps the G4 Beat variant. But, we digress. The 5MP front camera is also quite interesting, with its 120 degree wide-angle lens.
To round-up the overview, there are a few more "creature comforts" to note on the K10. These include Wi-Fi n, LTE, NFC, the quite futureproof Bluetooth 4.2 and the 2,800 mAh removable battery. Color options are also satisfactory and include Black, Titan and Gold.