Conclusion
If you had any doubt on Page 1 it should be all gone now - fast charging, regardless of the exact tech is great. With it charging a phone goes from slow and tedious to something you can do over breakfast. And as the iPhones showed even if there is no official fast charging tech for the phone, it helps to use a powerful charger.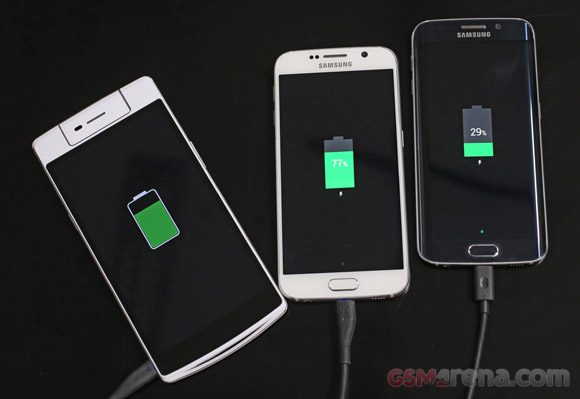 Oppo's VOOC was the standout of the test. Most others rely on upping the total power - a balance between volts and amps - Oppo took the divide and conquer approach and charges multiple battery cells simultaneously.
The effect is quite visible in the charts - the N3 fills up its tanks the quickest and reaches nearly 70% after half an hour. With this kind of haste, the Oppo N3 will rarely need to stay hooked up for longer than 30 minutes.
Samsung's Galaxy S6 and Note couples weren't quite as fast off the mark, though all four of them can easily get you through the day with 15-30 minutes of charge.
The Asus Zenfone 2 did Team Intel proud and delivered on the BoostMaster promise of 60% in 40 minutes.
At the base level, the Samsung and Asus use the same approach - dial the amperage back a bit and up the voltage. Their chargers are more compact than Oppo's VOOC charger, but not as fast either.
The HTC One M9 supports Quick Charge 2.0, which makes it a shame that HTC doesn't bundle it with a compatible charger. After seeing the other gulp up electrons, the One M9 just felt sluggish. The Meizu m1 note is in the same boat.
Same goes for Apple too, the 3 hour wait for the iPhone 6 Plus to charge up felt like an eternity. Luckily there's a solution - get a more powerful charger. Charger/phone negations mean the phone will only draw as much as its battery can handle, so at worst you won't get the fast charging.
Wireless charging is gaining traction - it buys convenience at the price of speed. The most powerful ones around push out about 1,000mA and some of that is lost on the very short journey to the phone.
For now cables remain the way to charge and luckily the old-school charging method is fast. From now on charging is opportunistic - sneak in 15-20 minutes when you can - instead of a 3 hour affair you have to plan.