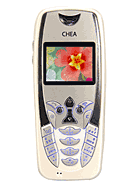 ?
This is the ugliest design i have ever seen, frankly, and it looks like a phone in a cheapskate cover
?
Sharp color display, the predicative text can be sliglty more userfriendly.
C
NV, if you think you have a very solid reputation in industrial designing, please contact me!

Chea make original phone and we owened all the trade marks for all our products! Sue us for being rigurous!
N
Sad-duk is so right. If this company is capable of making phones with gud UI and Features, why cant it invest in a Team of product designers. If they asked me,i would have helped. As long as working 4 them does not spoil my repution.
?
Have you ever had the experince to eat a totaly unusual meal, insted of all so boring that you usually do? That is the philosophy of CHEACOMM!
Total of 49 user reviews and opinions for Chea 318.