China Mobile is already advertising the Apple iPhone 6 in its two varieties with a 4.7" and 5.5" display. A tipster sent us a photo of a carrier banner placed on a street in China.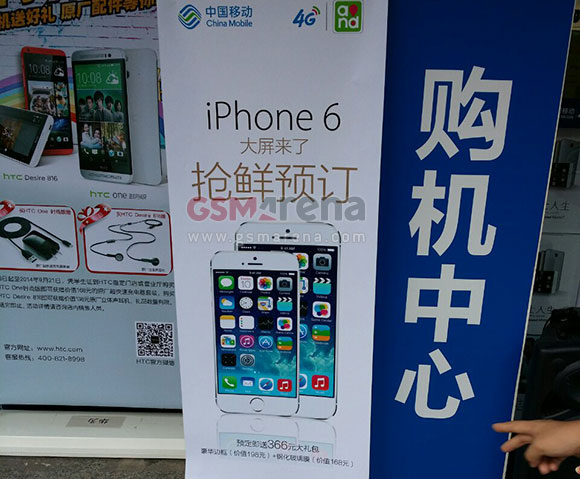 As you can see, this is the first time we see an official render of the two phones side by side. Our Chinese isn't spotless, but a rough translation of the banner suggests China Mobile will be taking pre-orders for the 5.5" iPhone 6.
In the banner, you can spot the calendar icon on the 4.7" iPhone 6 shows the date September 10. Most likely, the phone's pre-order will commence, while an educated guess will put the actual shipping date for either September 19 or 26.
The banner ad mentions pricing, but it's for the carrier's iPhone 6 tariff and not the device itself. However, the 4.7" iPhone 6 pricing in Russia is tipped to be about $810 (RUB 29,990), while the 5.5" model will retail for approximately $945 (RUB 34,990). We assume those will be for the entry level storage option, which would be 16GB. The 128GB version of the 5.5" iPhone 6 is suggested to be in the $1215 - $1350 range (RUB 45000 - RUB 50000).
The 5.5" iPhone 6 is rumored to sport a more potent hardware in addition to a sapphire display. We did an extended preview on what to expect from today's Apple event, where you'll find all the information there's to know.
Thanks for the tip, taghack!
S
It's a good thing that GSMArena keeps on posting this kind of threads. I need knowledge about GSM phones since I as a CSR (Customer Service Representative) at a certain U.S. Carrier. We need the knowledge that we can gather right here for us to troub...
?
Indeed. And it is very compact for the size minus the thickness. Is a great device. I just don't understand the move. They have the G Pro line for phablets. And the G Pro 2 is 0.6mm thinner than the G3 and has a 200mah larger battery. So they made...
?
Says they wish people would think before posting while making a reply claiming that Android and WP cannot be optimized because they work for multiple devices and to think so is moronic....... Woooooooooooowwwwwwww......