IDC: Chinese smartphone market declines in 2019, coronavirus will disturb 2020 too
IDC just came out with its report on the Chinese smartphone market in 2019. According to the stats, the market has shrunk another 7.5% in 2019 compared to 2018, which is a decline for the third year in a row and 11 quarters in a row.
In Q4 2019, shipments went down 15.6% year-over-year but Huawei managed not only to stay afloat but even hit 10.5% increase in domestic shipments compared to Q4 2018. vivo and Oppo came in as second and third in terms of shipments with Apple and Xiaomi taking the fourth and fifth positions. All except Huawei saw a significant drop in sales though.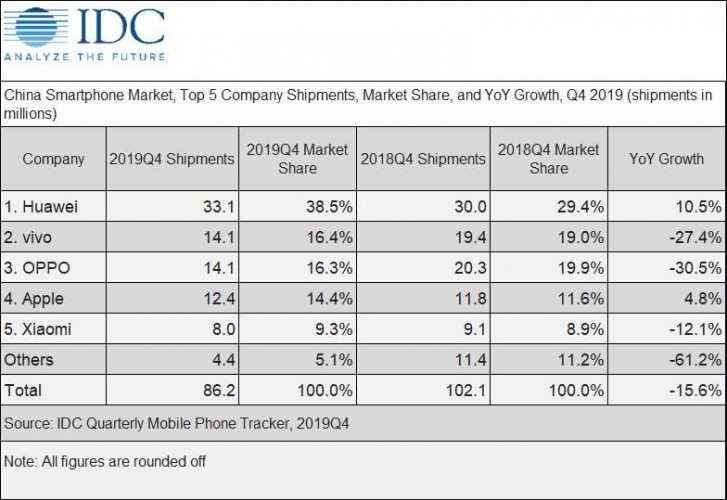 During the whole 2019, Huawei recorded a staggering 33.9% increase in sales with the rest of its competitors in the top 5 declining. Xiaomi managed to secure the fourth place and vivo surpassed Oppo in 2019. IDC highlights Huawei's Mate 30 Pro strong performance and vivo's successful iQOO brand as the main driving factors for Huawei's and vivo's market performance in 2019. Apple's competitive pricing strategy also seems to be paying off as it secured the fifth position.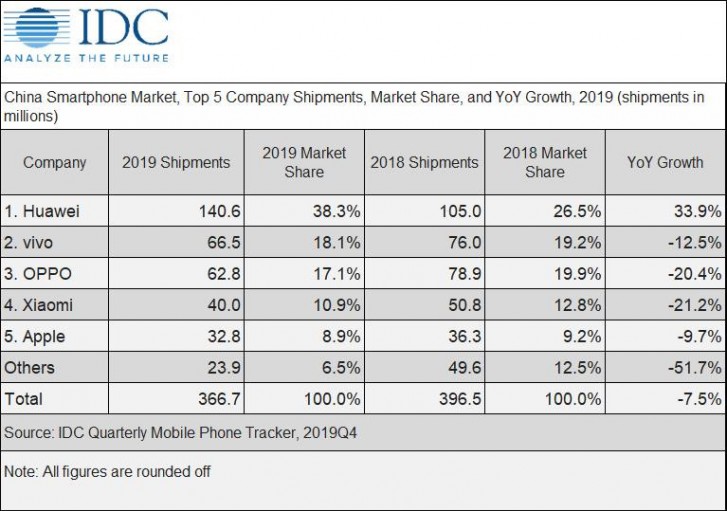 Looking ahead, IDC says that the Chinese smartphone market will face yet another challenge with the Novel Coronavirus outbreak, which will not only affect the overall performance of the market in Q1 2020 but will also have its long-lasting effect throughout 2020.
d
So, their extra 40 million "sales" in the global figures actually comes entirely from China?
?
so, how to read this data? Market share determined by the shipments not sales?
D
They shut it down as its the only way to avoid the Chinese copy laws. The laws that allows Chinese brands to cherry pick any design a foreign manufacturer uses.