Chinese brands accounted for 77% of smartphone shipments to India in 2020
The latest research from Canalys gives us insight to the smartphone trends of the Indian smartphone market. The nation had a rough start of the year as smartphone shipments stagnated around the start of the COVID-19 pandemic. Despite this, smartphone shipments greatly improved in the second half of the year with a record high Q3.
Q2 2020 saw the biggest decline, dropping more than 40% YoY compared to Q2 2019. The market was able to recover in Q3, which bested the same quarter from the previous year. Meanwhile, Q4 saw 13% growth, with 43.9 million units.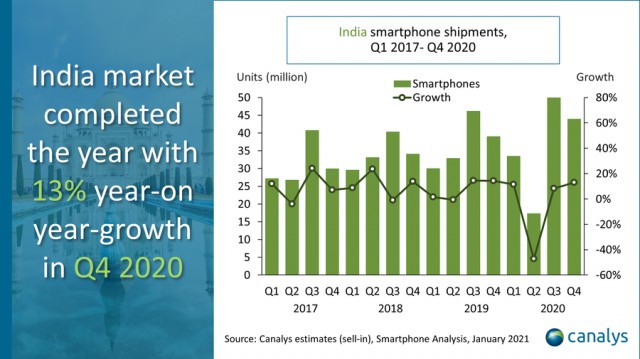 Xiaomi (including POCO) accounted for the most smartphone market share in Q4, consisting of 27% with 12 million units. Samsung came in second with 9.2 million and 21% share. Vivo and Oppo ranked third and fourth with 7.7 and 5.5 million units account for 18% and 13%, respectively. Realme was fifth and shipped 5.1 million units during the quarter.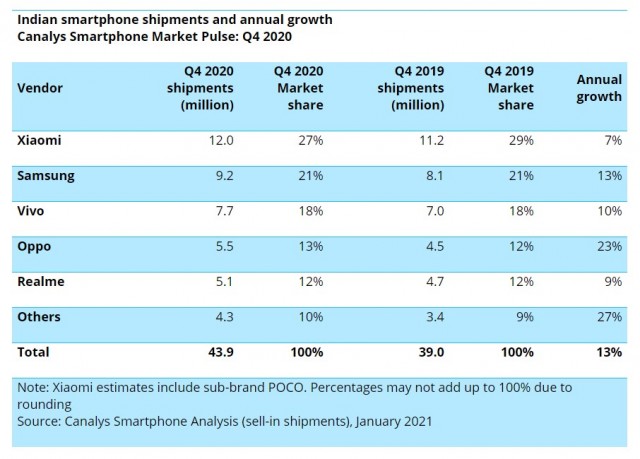 Despite the heavy decline in the first half of 2020, India's overall shipments for the first half of the year slipped by only 2% thanks to a rebound in sales in H2. 145 million smartphones shipped in 2020 while 148 million were accounted for in 2019.
For 2020 overall, Xiaomi's market share slipped a bit to 28% share and 40.7 million shipments. Samsung shipped 28.6 million units and won 20% share. Vivo shipped 26.9 million, Realme 19.5 million, and Oppo placed fifth with 11.7 million units. Despite growing tensions with China in 2020, Chinese brands continue to hold the majority of smartphone market share, accounting for 77% of smartphones shipped to India.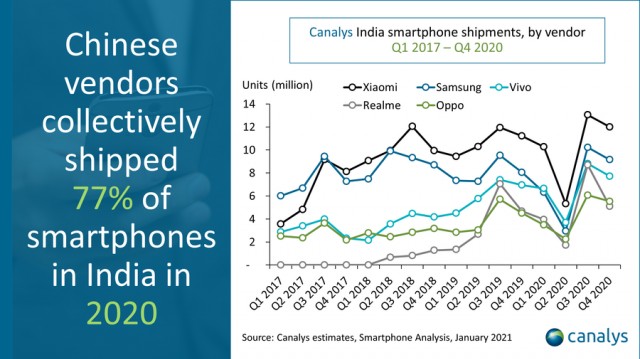 Analysts expect the Indian smartphone market to come back strong in 2021. PLI (product linked incentives) and ongoing 5G rollout in the nation should drive smartphone sales as we enter the new year. Canalys analyst Varun Kannan expects that Chinese brands are ready to capitalize on the shift to 5G connectivity. On another note, MediaTek's 5G Dimmensity chipsets have been pushing the entry price for a 5G-supported smartphone even lower and the new chipsets have consistently taken market share from Qualcomm world-wide.
D
Its not like indians can't afford iphones. They are wise to get a oneplus or samsung flagship instead of getting a overpriced apple's iJunks. Last gen apple models and mini are much cheaper than a one plus device.
D
Dear GSMarena, Give me one non chineese brand name that still relevant in android phone industry rather than samsung. There are only samsung & chineese. Then whats the point of saying 77% indian sales are comes from chineese?
D
So what are those better alternatives for CCP phones? Samsung? Its second best seller in india. Anything else?
ADVERTISEMENT