Chinese carmaker Arcfox will launch luxury EV powered by Huawei's Harmony OS and 5G
Arcfox is announcing a new luxury EV model that equips tech and equipment made by Huawei. The Huawei HI system combines its smart HiCar smart display with lidar technology and 5G connectivity to provide level-3 autonomous driving. The following is a teaser posted about the upcoming vehicle launch.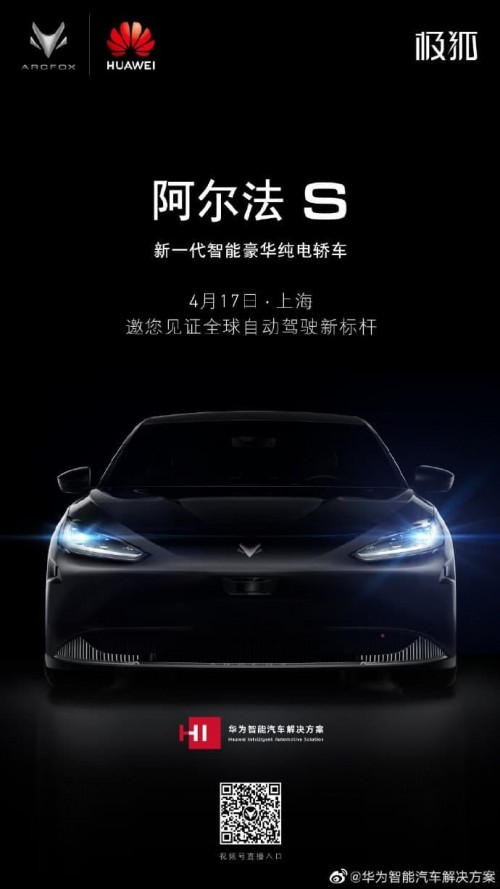 The Arcfox Alpha S HBT (the HBT stands for Huawei Bluepark Together) is the first vehicle to ever get Huawei's HI solution for self-driving EVs. According to a WeChat post made by BAIC Blue Park New Energy Technology, Arcfox's owning company, the self-driving capabilities of the vehicle will still require the drivers' attention in most cases, in the event that the driver needs to intervene.
The Arcfox AlphaS HBT will join three other Arcfox vehicles on April 17 during the Shangai Motor Show. "It is a next-generation, intelligent and purely electric luxury sedan jointly built by Arcfox and Huawei," said a spokesperson on Wednesday.
Rotating Huawei chairman Ken Hu has confirmed last week that Huawei does not plan to market a vehicle under its own brand. The company intends to collaborate with car makers to supply the Huawei HI system for their vehicles.
Huawei's current strategy in the auto sector is still limited to being a supplier, not an EV maker." – Zhang Xiang, automotive analyst.
As Huawei seeks areas outside of its telecom and smartphone business for revenue, the company hopes to partner with more car makers to supply the platform to more vehicles.
?
True, Tesla is built by hand using people with doubtful experience and I am not against electric motors, they are really more powerful than gasoline engines, however nobody has offered so far an efficient solution to recharge electricity and the cost...
ADVERTISEMENTS