The world financial crisis is coming to an end and one of the signs is the increased number of luxury phones announced lately.
Today all eyes are on the new collection of the Christian Dior phones, which is born a good year and a half after the first set of mobiles named after the renowned designer.
But it's not only the name. The new phones have an attractive design, which is supposed to follow the latest in fashion terms turning them into a sure object of desire for every fashionable woman.




Meet the Cristian Dior mobile phones
The first new phones in this new collection are black with PVD coating and sapphire crystals but with gold plating. That batch will costs you 6500 US dollars (a tad over 4300 euro) each.
The next couple of Dior phones are the diamond encrusted Zelie (the red one) and Zenaide (in white). Zelie should cost 7900 US dollars (approx. 5300 euro) while its more expensive sibling can be yours for good 13400 US dollars (nearly 9000 euro).
The last handset of this year's collection is the Nacre - with casing of mother-of-pearl and price tag of 8700 US dollars (around 5800 euro). Next to it on the image you see the Bluetooth headset with sapphire which is available in either black or white and as of September 2009 can be found in the stores for 470 US dollars (313 euro for a Bluetooth headset?!).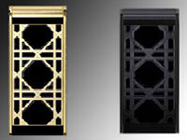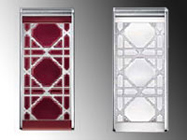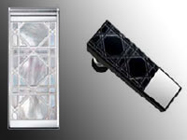 The latest Dior phones collection
All the fancy materials aside, behind the new phones lies a simple mobile phone with a stainless steel casing measuring 99 x 43 x 14.9mm and weighing 125 g. It features flat electroluminescent keypad and supports Bluetooth.
The new Christian Dior phones collection is expected to become available some time in December 2009, right on time for the holidays. For further details you can visit the official Dior site.
If you don't intend to buy some, you can still join us in a window-shopping tour in the world of ultra expensive phones.
m
ph for fashion, not for friendly use !!!
E
I got deleted!!! Amazing, the cold dead hands of Christian Dior still have the power obviously. I bow before the power of Dior (or the moderators who clearly have no sense of humour)
r
this is a phone fitted for me ... i'll splurge money for expensive phones
ADVERTISEMENT