Introduction
"Do you guys not have phones?" This has to be the most iconic line when we think of mobile gaming. It's been more than two years since Blizzard announced Diablo Immortal and these words went viral, yet the game is nowhere to be found. But over the course of these two years the entire gaming industry changed, evolved if you will. Cloud gaming has become possible and it allowed people who have phones to play high-profile console and PC games on the go. And that's what we want to explore today.
Cloud gaming is like Netflix, but for games. This is what we'd say to anyone asking for the tldr; version. You pay a monthly subscription; you stream the games you play. Simple as that. For this to happen, you would need a gaming controller and a good internet connection, of course. But other than that - you shouldn't be needing a top-of-the-line smartphone, PC or console to be able to enjoy AAA titles, like say, Assassin's Creed Valhalla, Cyberpunk 2077, Halo: Infinite, Red Dead Redemption 2, GTA V, Nier Automata, just to name a few.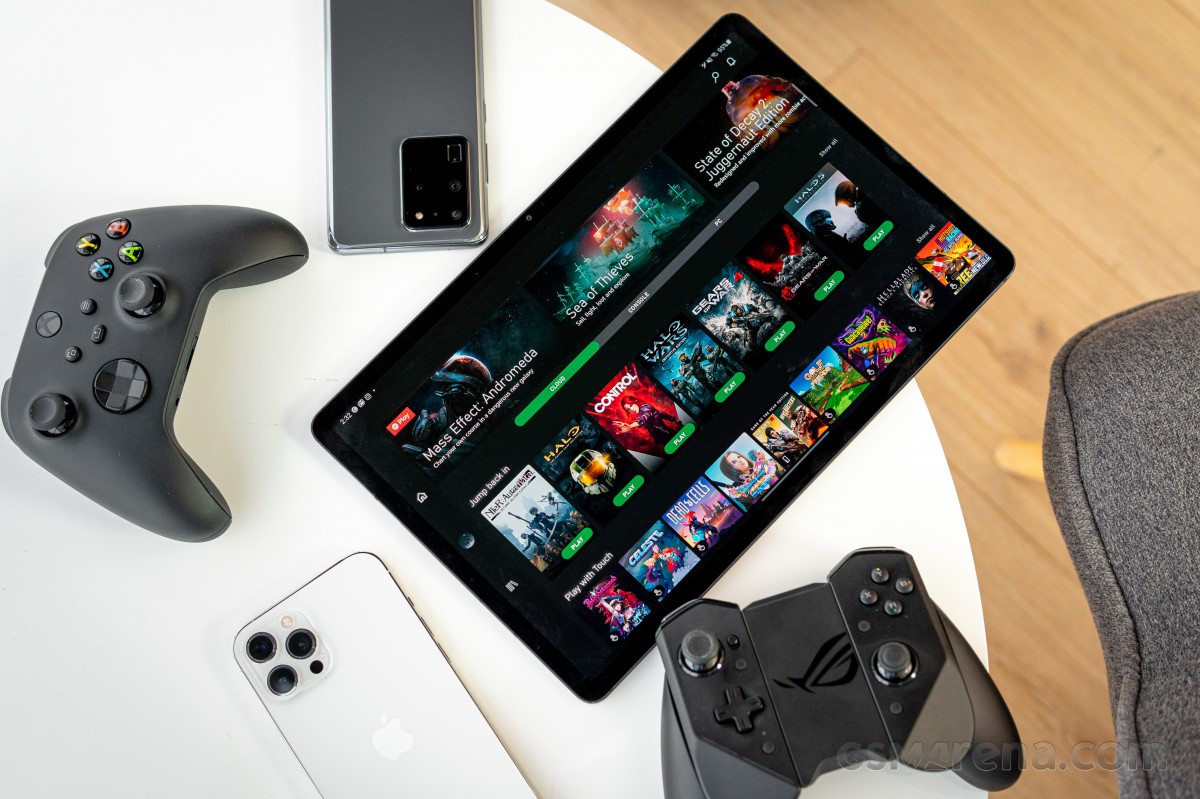 Currently, there are three major cloud services available to smartphone users - Xbox Game Pass cloud gaming, GeForce Now and Google Stadia. Amazon is currently testing its Luna app, and it will go live later in 2021.
Xbox Game Pass cloud gaming is exactly what the name suggests and is the closest thing to Netflix. You pay a monthly fee, and you have access to 100+ games, which you play on remote consoles. New games are added monthly, but you also lose access to some games each month. All first-party exclusives are always available, of course. See, just like Netflix.
GeForce Now is a bit different. It allows you to rent a high-end PC and play on it while the service streams your sessions to your phone. The fee is lower because you need to buy each game you want to play. It supports games from the game stores operated by Steam, Epic, GOG, and Ubi. So if you already have a disturbingly long backlog of games you'd like to play but don't have a $4000 PC, this is one very interesting alternative.
Then there is Google Stadia. It is like GeForce Now, except it doesn't require you to pay for (1080p) streaming if you are playing games you've already bought. The monthly fee (Stadia Pro) gives you access to a limited catalog of games to play freely and allows 4K HDR streaming of the ones you've already bought. It doesn't support third-party game stores, though (unlike GeForce Now).
Amazon has a game streaming of its own in the works, too. Amazon Luna is channel-oriented, like a cable service. Your monthly fee gives you access to a certain channel or channels of different games. Currently, it's still in closed beta test, though.
We've tested the three most popular game streaming services, and we had a ton of fun. Check out our impressions start right after the break.
Nope, Xbox Series S also works
M
Just a heads up, dont buy vortex streaming - there is no support and the games will not load or work. I spent 30 mins trying to get a game going which never worked. Customer support told me that they dont have that game, which is impossible since it...
?
when will PlayStation come with a streaming ?