Samsung Galaxy S20 has leaked so frequently, there isn't much about it that we don't know yet. Now we also get to see its official cases, revealing the Samsung-designed protection options for the upcoming flagship will come in multiple colors, matching pretty much every available possible outfit.
There are at least four cases that will have night sky pattern on the back (sporting LEDs that light up when a notification comes), there are variants with snazzy colors on the inside (even if you don't really see it), two different versions of flip covers and protecting standing cases with an kickstand, so you can watch videos while eating.
The first version of flip cover case has a transparent strip from top to bottom on the right front side, where the Always-On Display will show the clock and any notifications. It looks like a fabric case, but we wouldn't be surprised to be plastic with fabric-like texture.
The other flip cover case is well-known in the Samsung Galaxy universe - it lights up the clock in a dot pattern, while notifications aren't visible. There will be at least four color options for both of those - White, Grey, Baby Blue, and Powder Pink.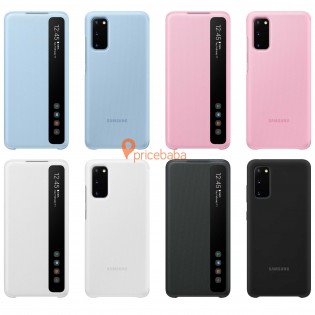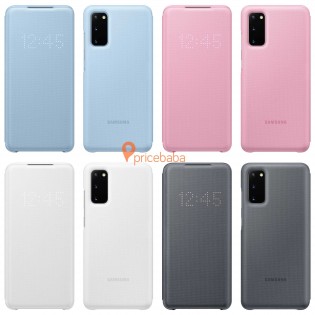 Samsung Galaxy S20 flip cover cases
There are also the aforementioned sky pattern cases with LEDs and the leather options.
The cases pictured are all for the Samsung Galaxy S20, which will be the most affordable device in the family of three, but the Galaxy S20+ and Galaxy S20 Ultra will likely get the same options. Prices are expected to start from $25 for the Soft Touch covers to around $50 for the LED View Cover with the dots.
?
Why are people being so negative? They're just cases for Pete's sake lol.
B
You know ..this is actually final design for the phone , because this is how it will look for most people in their daily life. and camera bumps ?! that doesn't matter ! because you are expected to wear case anyway ... cheers
ADVERTISEMENT