Comcast may not be the most loved company in the US (far, far from it, in fact), but it does have a lot of customers. Sure, some (or many) of those don't really have a choice, but that's a discussion for another day. The company has just announced that it's jumping into the wireless carrier business with Xfinity Mobile.
Comcast Xfinity Mobile will be a MVNO operating on Verizon's network, and it will become available later this year. There's a catch, however - you'll have to be a Comcast customer to use Xfinity Mobile. Additionally, it doesn't seem like bringing your own device to the network will be possible. Comcast says it will offer iPhones as well as "the best devices from Samsung and LG".
Xfinity Mobile has two plans, both of which come with unlimited talk and text. The more expensive option costs $65 per line and gets unlimited data (with throttling after 20GB per month). This plan will be discounted to $45 for customers that have the best X1 packages.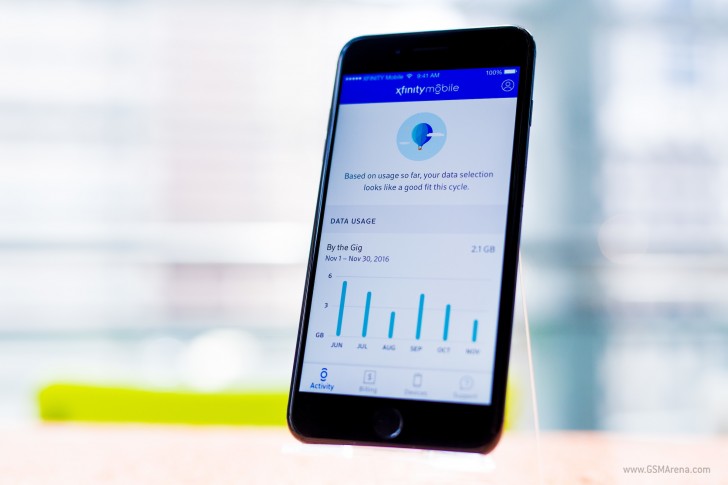 The alternative plan makes you pay for data by the Gigabyte, $12/GB to be precise. This option exists because apparently 70% of US wireless customers use 5GB or less per month.
The neat thing is that you can mix and match these plans on a family account, with some members getting the unlimited option and others the one with data billable per Gig. You can also switch any line from one plan to the other at no cost.
When using Xfinity Mobile your handset will also auto-connect to Comcast's millions of Xfinity Wi-Fi hotspots. Additionally, you get 24/7 support via voice call and text message, and an Xfinity Mobile app which lets you view your data and call logs in real time, as well as manage your account, choose and switch plans, the likes.
All in all, this sounds interesting and refreshingly simple. It's quite similar to Google's Project Fi, in which it uses an app for account management, and you'll get seamless handover between 4G LTE and Wi-Fi. However, Fi doesn't have an unlimited data option, and while it charges just $10 per GB, you have to also pay $20 per month for unlimited talk and text. And it's using other networks, such as T-Mobile, Sprint, and US Cellular.
?
I'm back with Comcast for the third time. I just go with whomever is cheapest with the most bandwidth twixt Xfinity and Centurylink. Right now, Xfinity has the best plan for internet only, no TV, for $50/mo for 65 mbps down and 7 mbps up. I pay fo...
A
You are correct, the reason for this is to avoid the customer's data from being throttled without their consent. As this would not reflect on their data usage. And then they will call us asking for reimbursement on the data that "they" are claiming t...