Comparing the sizes of flagship chipsets: Qualcomm, Samsung, Huawei and Apple
There are four major manufacturers of flagship chipsets – Qualcomm (Snapdragon), Samsung (Exynos), Huawei (Kirin) and Apple (A-series). Three of those tend to be used in the respective companies' own flagships. Apple certainly doesn't want to share while Samsung and Huawei rarely find outside customers.
We often talk about the power usage of a chipset – it's important for the battery budget. Fabbing the chip at lower nanometers helps with that, but also balances the other important sheet. The price of a chip (patent costs aside) is proportional to its size.
This makes it tricky to find the right balance between CPU power, graphics performance and additional features (image processors, AI accelerators and so on).
For the curious, Tech Insights has annotated photos of the chipset dies of the four major players. A Snapdragon 845 is 25% smaller than an Exynos 9810. The Apple A11 Bionic is even smaller than the Snapdragon, but is the only one with without a modem on board. The Kirin is somewhere in between.
Here's a scale image of the four chipsets (click for a closer look):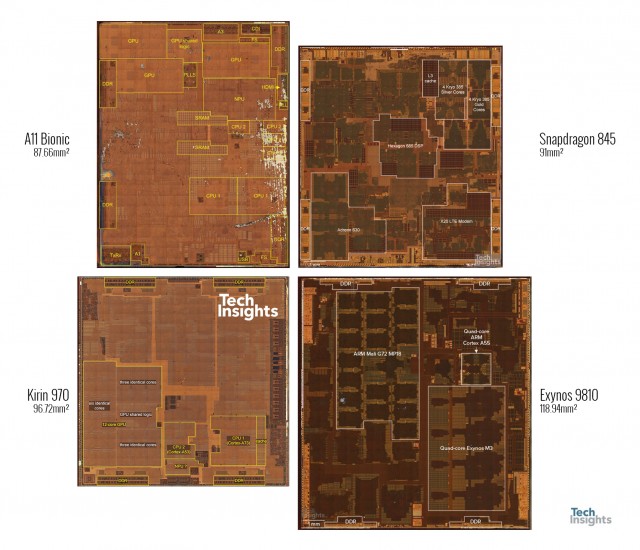 And here is a table with the sizes (note that the Snapdragon 845 size is estimated):
| | |
| --- | --- |
| Chipset | Size |
| Exynos 9810 | 118.94 mm² |
| Kirin 970 | 96.72 mm² |
| Snapdragon 845 | 91 mm² |
| A11 Bionic* | 87.66 mm² |
| * not counting the external modem | |
To see if each company got its money's worth, here is how these chipsets perform in CPU and GPU tasks. (note: an Xperia XZ2 is standing in for the S845-powered Galaxy S9+)
GeekBench 4.1 (multi-core)
Higher is better
Apple iPhone X
10215
Samsung Galaxy S9+
8883
Sony Xperia XZ2
8466
Huawei Mate 10
6625
GeekBench 4.1 (single-core)
Higher is better
Apple iPhone X
4256
Samsung Galaxy S9+
3771
Sony Xperia XZ2
2454
Huawei Mate 10
1882
GFX 3.1 Manhattan (1080p offscreen)
Higher is better
Sony Xperia XZ2
55
Samsung Galaxy S9+
47
Apple iPhone X
44
Huawei Mate 10
38
Basemark ES 3.1 / Metal
Higher is better
Apple iPhone X
1854
Samsung Galaxy S9+
1481
Sony Xperia XZ2
1176
Huawei Mate 10
1142
g
where did you find that (Snapdragon 820) is based on A57. and it is called Kryo 100..... if im not mistaken the s6 family had exynos but on 14nm smaller than 20nm sd808/810 had both using a56 cores and the Samsung solution putted miles away again...
u
QUALCOMM snapdragon chipset is coming in laptop also. and QUALCOMM snapdragon LTE fast modem also.
u
do u know !!!!!! QUALCOMM snapdragon is developing for Samsung exynos chipset.
ADVERTISEMENT