comScore has released its detailed breakdown of the active smartphone users in the US for the trimester ending in April 2013. Apple is the top manufacturer with 39.2% followed by Samsung at 22.0%. Keep in mind that these results do not include the majority of the Galaxy S4 sales as it was released at the very end of April.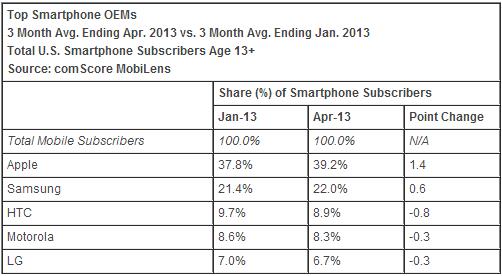 HTC and Motorola are fighting for third spot, with HTC clinching it by as little as 0.6% (8.9% vs 8.3%).
Compared to the trimester ending January 2013 Apple saw an increase of 1.4 percentage points, while Samsung gained 0.6 percentage points. All the others saw their market shares shrink.
In terms of OS subscribers in the three month period Android is on top with 52.0% (down from 52.3% for the previous three months) with Apple's iOS coming second with 39.2% (up by 1.4 percentage points compared to the last trimester).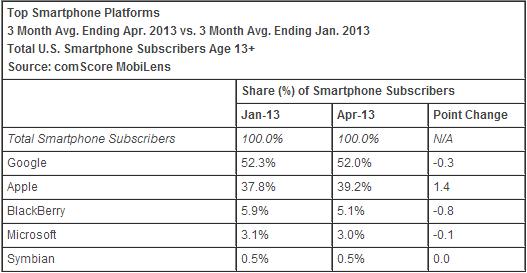 BlackBerry has lost some subscribers (0.8 percentage points, to be exact) but still holds 5.1% of the total subscribers. Windows Phone is at 3.0% (down by just 0.1).
?
Oh? And you think you don't look crazy using siri? Just because my phone has a feature doesn't mean we'll use it everyday, much less in public. It's still nice to have and might become useful one day
?
Not really, it has its downs. So does GS4, so it still depends on the person
D
totally correct! iphone is all about crappy restrictions and limitations :D
ADVERTISEMENTS