It seems that smartphones had another strong summer quarter Stateside, as the quarterly comScore report reflects a 7% increase in smartphone users for the 3 month period ending in July.
Google still dominates the smartphone platform with just over 52% of the market, up 1.4% over last quarter. Apple has also seen good growth, up two percent points to now cover just about a third of all smartphones in the US.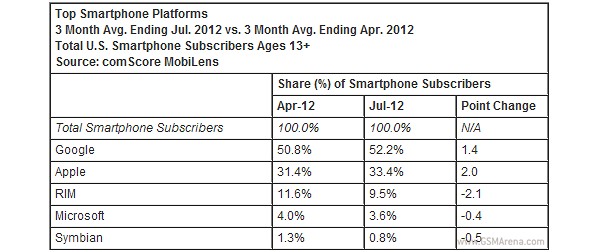 As far as manufacturers go, it's the same old story with Samsung being the top mobile manufacturer (for both smartphones and others) at 25.6%. Apple and HTC are the only two manufacturers with increased market share over last quarter, with a 1.9% and 0.4% change, respectively.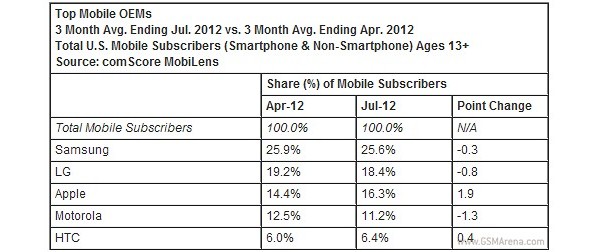 ?
How about this. Eerily familiar? Crime infested slums: Open to anyone to pass through (just don't blame anyone if you get robbed) No rules, which suits criminals and rapists more than law abiding citizens Android: Pirate sof...
?
Agree with this and have been saying the same thing. Not everybody understands the distinction but you have summarized it nicely.
?
Article from Business Insider on why Android is in a lot of trouble. http://articles.businessinsider.com/2012-04-21/tech/31377717_1_android-appcelerator-ios
ADVERTISEMENTS