The most recent comScore report, which reflects the 3 month period ending in May, has Android and Apple combining for over 80% of the market. Windows Phone also saw a small increase in market share, and now stands at 4%.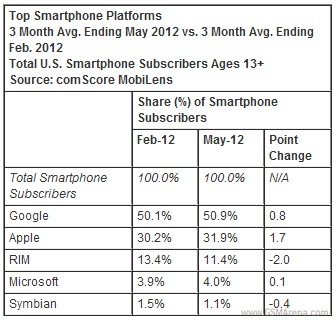 Some 234 million people in the US aged 13 and older use mobile devices. Samsung stand at the top of the hill with 25.7% of all phones used being theirs, while Apple saw the biggest increase among the major manufacturers - 1.5 percent points. The Cupertino-based company now controls 15% of the market.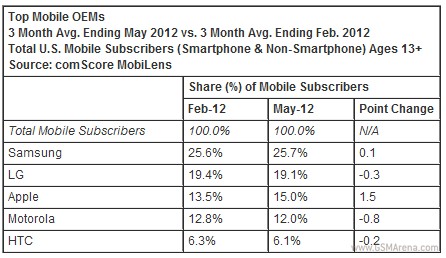 RIM and Symbian continue to lose ground, as the Blackberry manufacturer saw a full 2% decline down to 11.4%, while Symbian now accounts for just over 1.1% of the US market.
e
The games collection of windows phone is very impressive. There are lots of nice free games. I wish developers bring more apps.
?
Windows Phone 8 will dominate. It finally has better hardware. It has security chip built in with Secure Boot and BitLocker. Windows Phone 8 has DirectX. Expect some amazing games for Windows Phone 8. DirectX is why Windows games so often look bett...
J
I disagree with your comment. Apple is all to do with making a better return on shareholders' equity. It has absolutely nothing to do with being elitist as such. That why all these droid geeks are business failures. Samsung has to sell 3 times as...
ADVERTISEMENTS