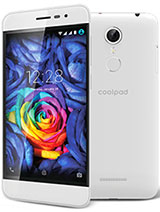 j
julius, 06 Feb 2018when ever i youse the torino s i never had enouth battery power left, now i no why.yea me to. after this i got a powerbank, lol.

j
when ever i youse the torino s i never had enouth battery power left, now i no why.
y
Please, anyone ! My Torino S doesn't recognize the second SIM-card - like it doesn't exist.
A
I have one problem with my Coolpad TORINO...when i record my video i cant watch it....its wont open ! I had by mobile last week. WHAT IS THE PROBLEM PLEASE ???
c
Great phone for this money, fingerprint sensor work really well. The baterry is only 1800 mAh but i charge my samsung (2000 mAh) more often than the coolpad so i am ok with his baterry. I use it for a month but i think it's better than my samsung (grand prime)
M
Personally I don't recommend on getting this phone. It gets really hot when playing games or even just browsing internet, 1800 mAh is not enough and expect to charge every day or even twice a day if you're a heavy user. It has some issues with GPS - sometimes it can't even locate a single satellite, it has to do something with bad software as the system reset fixes this. To change the lock screen picture you have to use some preinstalled design app. Also for power users there seems to be no way to root it (yet) and no custom ROMs as this device isn't very popular.

On the positives - the camera is decent and the phone itself seems pretty fast and responsive.
R
Anonymous, 04 Jul 2016In this price segament I dont expect it has fingerprint great.Actually, the fingerprint sensor works better in real cases than both Sony Xperia Z5 Compact and Sony Xperia X. With the Sony's I constantly got into a lockout, while the Torino S supposedly adapts - every time it successfully unlocks, it also learns another "variant" of your fingerprint.
S
It will not drain because it's display resolition is low.. for its specs it has average battery, if it has full hd display then it could drain in half day..with this battery it will survive fully one day...by the way, power bank with 5000 mah will charge it 2 times easily
Total of 11 user reviews and opinions for Coolpad Torino S.