Corning has unveiled the sequel to its popular Gorilla Glass. Version 4 is better at falling – it survives 80% of drops from 1m (3.3ft) on a rough surface meant to emulate the jaggedy surfaces encountered in daily use. Corning claims Gorilla Glass 4 is twice as tough as unnamed competing products.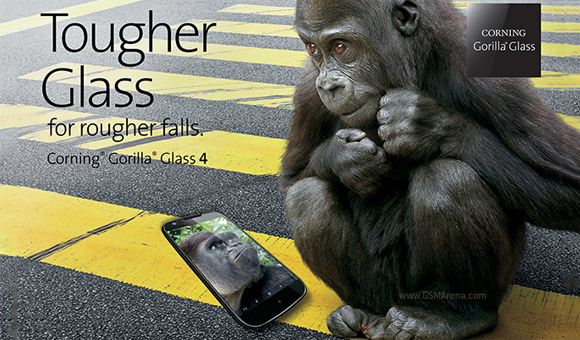 The product information sheet (PDF) compares the new product to the current Gorilla Glass 3 and the charts show that 0.4mm thick Gorilla Glass 4 is slightly tougher than a 0.7mm thick panel of the previous generation. This means makers can improve the durability of their phones without using thicker and heavier glass.
Samples have been sent out so we should be seeing the first devices early next year. Since 2007 Gorilla Glass has been put on 1,395 different products totaling 3 billion devices.
G
Samsung this not good for you, with a simple fall my samsung S7 edge fell and broke its gorilla screen against one of their key marketing strategy. I take the phone to the service provide (Repairer) Samsung agent Cell City -Botswana, goal post chan...
l
Worst ever my screen is broken with a simple fall
W
Maybe Nokia makes the glass thicker.
ADVERTISEMENTS