HTC showcased the EVO 3D back in March, which was their first phone capable of recording images and videos in 3D. That phone, however, was intended for Sprint's CDMA network. But HTC may just have a GSM version of the EVO 3D up its sleeve.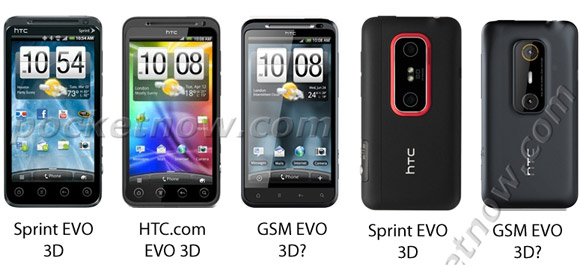 Pocketnow.com came across these images on HTC's website. The one on the extreme left is the one that they initially announced, the one in the middle that was put up on HTC's website but later pulled and the last one that appeared on HTC's developer website and the one that we are going to talk about.
Notable differences between this and the others include a lack of circles around the keys below the display, which were exclusive to the HTC phones on Sprint's network. Along the side, the volume control button, camera shutter button and the 2D/3D mode switch have been redesigned. On the back the camera lenses don't have the red surround and the window for the LED flash has a different design.
It's also running an older version of Sense but if you look carefully at the icons you can see that it's because the screen does not belong to the phone but it's just pasted there from some other HTC phone. The EVO 3D has a qHD display which makes the icons look smaller with more gaps between them as is evident from the other two phones but this one looks more like the one on phones running WVGA screens.
All this point toward the fact that this slightly redesigned handset might just be the GSM version of the EVO 3D. If this is true it won't be the first time HTC has done this. They created GSM versions of existing CDMA phones before, for example, the Desire HD is virtually a clone of the EVO 4G. Perhaps this could be the Desire 3D?
m
If the GSM version is coming with a xenon flash..then it would really be one of the best phones that HTC made.. Would've been nicer if the phone was with at least 8 GB internal memory or minimum comes with an 8 GB MicroSD card..better camera qualit...
D
At the moment, the only phone with a good exterior design is the Arc, sadly. HTC phones look boring as hell, but at least they aren't a bland iPhone copy like Samsungs. Too bad Sony only uses ancient hardware.
O
based from that pic, the GSM EVO 3D looks like it's sporting a xenon flash compared to the dual LED flash of the other one.
ADVERTISEMENTS