Counterclockwise: Apple products that failed, but whose legacy lives on
Apple may be the most powerful tech company today, but it went through a difficult period in the 90s. Without Steve Jobs at the helm, it was lost and tried entering every product category you can think of. Most of them failed commercially, though some have a legacy worth remembering.
Apple Newton
Long before the iPhone, Apple made the Newton - a Personal Digital Assistant or PDA. These days you may hear "digital assistant" and think "Siri", but PDAs were like smartphones, except without the phone part. In fact, the term "PDA" was coined by Apple CEO John Sculley.
The Newton was advanced for its day (it was released in 1993), but its high price prevented mass adoption. Still, its advanced features were not easy to come by in those days.
Larry Tesler, former Lisa team member, set out to find a fast but low-power processor for Apple's PDA but there were no suitable existing options. Eventually, he turned to Acorn RISC Machines (a fabless chip designer) and their partner VLSI (a chip maker).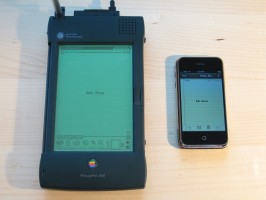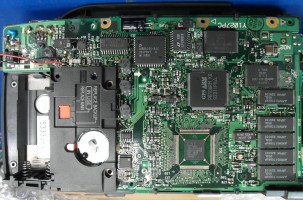 Apple Newton (photo: Blake Patterson) • Note the ARM 610 chip (photo: Binarysequence)
Never heard of Acorn? It designed the successful BBC Micro computer. But you've probably know it under the name ARM. Yes, the ARM that created the foundation of practically all mobile CPUs today.
Apple, Acorn and VLSI designed a new ARM core - ARMv6 - to power the Newton. Various ARMv6-derived processors would go on to power early smartphones, including several Androids and the Palm Pixi.
Things moved on to ARMv7 and now ARMv8 (the 64-bit chips), but there's little competition. Intel bailed out of mobile chipsets while MIPS never had much of a foothold in the Android era.
And modern ARM cores are not the only legacy of the Apple Newton. Two devs that worked on it would later found Pixo, the company behind the OS for the early iPods (all non-iOS iPods ran Pixo OS).
Apple Pippin
In the mid-90s Apple started licensing its brand to other makers who made digital cameras, CD players and even a game console. That console was the Apple Pippin and was manufactured by Bandai (you may know them from Power Ranger toys).
In fact, the Pippin was more than a console - it was based on the Macintosh platform and ran a modified Mac OS. But Apple forbade Bandai from calling it a computer to prevent confusion (Apple also did zero marketing for the product).
The Pippin was a multimedia center - it played games, yes, and it could also play music and video and even browse the web. However, with a $600 launch price it proved expensive, making it a commercial failure.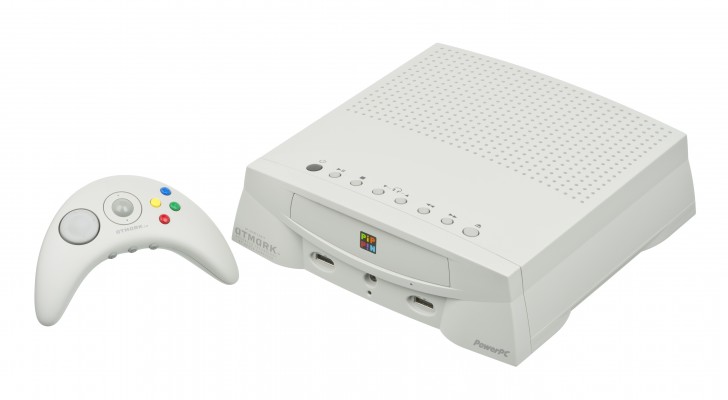 Still, you can see the similarities with Microsoft's Xbox - it was meant to be the brain of a home entertainment setup and it ran a version of the company's flagship OS.
However, by all accounts the Pippin was not a very impressive game console. One game stood out to us, though, a sci-fi first person shooter called Super Marathon made by a small game developer known as Bungie.
Yes, that Bungie, which 3 years later would go on to make Halo, another sci-fi shooter. Halo broke all sorts of sales records and in the two months after its release, a Halo disc was sold alongside half of Xbox consoles. Many bought Microsoft's console specifically for the game - just think what might have been if Bungie's Pippin game sold so well.
Apple eWorld
In 1988 Apple and Quantum Computer Services launched AppleLink Personal Edition for the Apple II and the Macintosh. Later (in 1994) the two companies would partner again to create eWorld. Presented as a city with various buildings, eWorld offered e-mail (at the post office, of course), BBS (at the community center) and so on.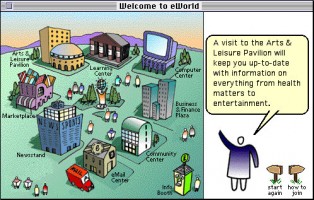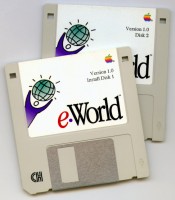 Welcome to eWorld • installation diskettes
Quantum's co-founder and CEO Steve Case spend three months in California trying to convince Apple to let his company run the new service. Apple would get a 10% royalty of the $8.95 monthly subscription and $7.95 hourly charge (between 6am-6pm, outside that period it was $4.95 an hour).
Perhaps you've never heard of Quantum, but that's only because in 1991 it rebranded to America Online or AOL. Sure, today AOL is mostly an empty husk, but in its heyday it was the dominant Internet provider in the US. Seriously, at the time 50% of CDs made in the whole world were AOL CDs.
Plus, Apple's later efforts to build an online community were no more successful than eWorld - you could argue that iTunes Ping was actually worse (it sure didn't last any longer).
N
They didn't. They just did ARMv6 for the Newton. ARM existed before that, just not that version. Intel had their StrongARM 101 and 110 series that also pushed the boundries of where ARM would go, and knocked the clock rates into the hundreds of MH...
.
Yeah, tons of people don't know Apple co-founded ARM and went around shouting Snapdragon being superior to A-series SoCs
?
Nice article - tho not sure powerful is the right word about Apple instead of wealthy. Did not know that the ARM chip started out for the Newton. Today ARM is owned by Softbank - a japanese company. But the margins are perhaps too small for Intel.