Counterclockwise lets us spend 15 minutes reminiscing about the past, this time we'll look at Apple's mobile OS. June is the time of year for Apple to reveal the new iOS version at its annual WWDC gathering. Back then it was still called iPhone OS since it powered only, well, a phone. The OS has spread out since then jumping to several generations and size of iPads, not to mention the iPod Touch and the Apple TV. The simple, elegant design of the interface has even started influencing Mac OS.
Apple is holding this year's WWDC next week and we expect to see the new iOS unveiled. Before that, here's a quick history lesson on the major advancements made by its predecessors.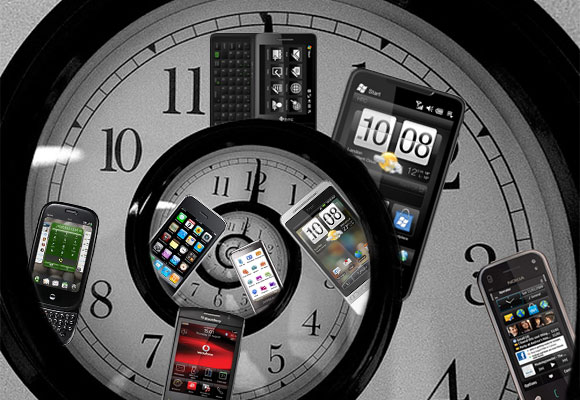 Version 2.0: the AppStore
The Apple AppStore is huge, but more importantly, it's hugely profitable. The company almost missed it though, the original iPhone software allowed only for web apps, Apple felt it provided all the native functionality that was necessary.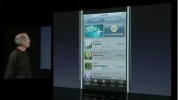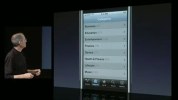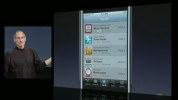 Steve Jobs presenting the new AppStore to be available in June
Hackers felt otherwise and quickly added the option to install third-party apps. It wasn't until iPhone OS 2.0 that Apple made it official and launched the App Store. iPhone users rejoiced, iPod touch users found they have to pay a fee to update the OS.
This version added a ton of additional improvements to the native functionality too. Push email/calendar/contact sync was added with Microsoft Exchange support. Hardware acceleration for 3D graphics was added, along with a 3-axis accelerometer, Apple showcased some impressive (for the time) games.
Version 3.0: Copy & paste
A year later Apple boasted "over 100 new features" from the stage. Top of the list were things like Cut/Copy/Paste, Undo, MMS support and a landscape keyboard. It sounds laughable now, but the OS was still young and it was up against OSes that spent the previous decade gathering features.
Other more notable improvements were available, things we take for granted now like showing the last photo taken in the corner of the camera UI. The new iPhone 3GS that launched with the latest version of the OS back then was the first to offer video recording functionality, by the way.
Then there was turn-by-turn navigation support – Apple Maps was still years away, this was for third-party apps. Back then iOS couldn't multitask, so special allowances had to be made for certain tasks.
The Spotlight feature was adopted from Apple's desktop OS, it allowed system-wide searching through Mail, Calendar, Notes, iPod (the music player app) and the web.
Version 4.0: Multitasking & FaceTime
The next year Apple held the "over 100 new features" speech all over again, this time there was some really major stuff. For one, multitasking finally arrived.
Well, sort of – an app had access to 7 background services and it was the services that did the actual work. They handled things like audio, VoIP, location, notifications and so on, so that an app can provide the necessary functionality, but the OS was still in complete control to keep performance and battery life up to snuff.
Apple ventured into video calling as well, again beating its own path. FaceTime utilized the front-facing camera on the iPhone 4 to do video calls over Wi-Fi (support for video calls over mobile data would come later).
Apple also launched iAd, a way for developers to monetize their apps via ads and a cash cow for Apple. iBooks was born, the iTunes of books, while the Game center strengthened the iPhone's claim to be a gaming machine, two years since the addition of 3D graphics.
Version 5.0: Siri & iMessage
After the big change in 4.0 it was a time for a more incremental upgrade. iOS 5 claimed 200 new features (oh, boy), the biggest addition was Siri. The chatty virtual assistant used to be a separate app, available on Android and BlackBerry, until Apple bought its parent company, made Siri smarter, killed off support for other OSes and wove it tightly into iOS.
Apple's proprietary instant messaging service, iMessage, brought an alternative way for Apple users to stay in touch – it supported text, photos and videos and set its sights on BBM. To this day there's no official iMessage app for a non-Apple OS.
The Notification center was kind of a big deal too. Borrowing a page from Android, iOS added a pull-down shade that held recent notifications, but quick toggles were a few updates away. Twitter was made a native app and integrated into the OS. Fans would have been happier with Facebook, but iOS 5.0 let them tweet from Safari, Photos, Camera and a few other apps.
Version 6.0: Maps
Fans got their Facebook integration with iOS 6.0 and Siri extended its consciousness to the iPad. Multiple car manufacturers announced they'll be adding a button that can call Siri into action from the steering wheel. FaceTime was allowed to use mobile data and Apple unified users' FaceTime and iMessage IDs.
The biggest noise would surround an old new feature – Maps. Previous incarnations used Google data, but increased competition with Google's Android led Apple to create a new app from scratch. The company quickly learned that such an endeavor takes years to perfect – Maps was initially lacked features and was inaccurate, becoming the butt of so many jokes.
Version 7.0: Going flat
Microsoft popularized a flat interface design, a polar opposite of skeumorphic 3D designs of the past. Android quickly followed suite, while Apple kept its leather, wood and metal textured apps until 2013 and iOS 7.The new look completely replaced the old, it brought new icons, wallpapers, native apps.
It also changed the way multitasking works, letting apps do more work in the background and was clever about when to let apps do work, learning from your habits.
Siri got smarter too, borrowing the card-based interface from Google Now and tapped into Twitter, Wikipedia and Bing to answer your questions.
The Notification center from v5.0 was joined by the Control center, which housed quick toggles. It also introduced AirDrop, a simple way to share files between Apple devices, without the need for NFC. Meanwhile, FaceTime got an audio-only option to complete Internet-communication functionality of iOS.
Version 8.0: Handoff & HealthKit
Apple was adopting features and designs popularized by other companies, now it was time to show them something new. The new Handoff feature worked with the new Mac OS X Yosemite and allowed users to move tasks between their iPhone and their Mac – calls, messages, swapping files and so on.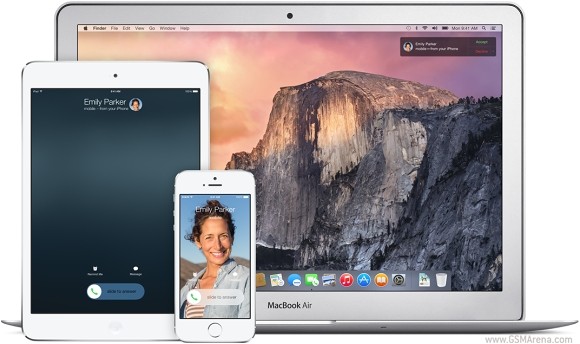 Okay, iOS 8.0 wasn't completely new, it added things like third-party keyboards, which Android has had for ages.
The new OS introduced HealthKit, days before Google unveiled Fit. It also opened the fingerprint tech of Touch ID to developers and pooled Apple's cloud services into one iCloud Drive.
C
You forgot andoid 1.0 --> cupcake --> donut --> eclair... yum3x
A
Maybe it's your brain that lags...
D
That isn't very fair. Android after Jelly Bean decreased lag dramatically and it has only gotten better. Older devices didn't always fair well, but that has more to do with the skins on top of stock Android. It is getting much better. I prefer iOS, b...