Counterpoint: Oppo surpasses Huawei and becomes largest smartphone brand in China
Oppo became the biggest smartphone maker in China for the first time ever, reports Counterpoint Research. This is the result of two factors: Oppo's rise and Huawei's decline.
This January Oppo captured 21% of the Chinese market, putting it on top. Fellow BBK brand vivo was close behind with 20%, tied with the ailing Huawei. Behind that are Apple and Xiaomi, both at 16%.
Below is a timeline of Oppo's growth. Its market share in January increased 33% compared to December and 26% compared to January 2020. Note that the company's 5G models are tracked separately as Counterpoint marks them as key drivers of growth.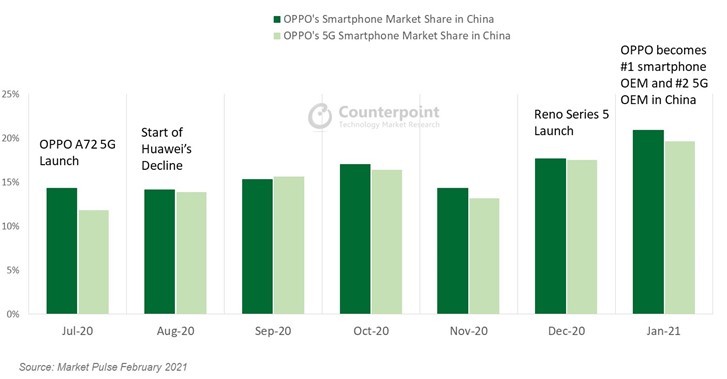 And it's easy to see why – 5G smartphones made up 65% of all units sold in China during the last quarter of 2020. This also explains Huawei's woes.
The company can source 4G chips, but for 5G phones it has to rely on the chips it stockpiled before the trade restrictions came into effect. So, Huawei has shifted its focus to the premium market where profit margins are higher (but sales volumes are lower).
Oppo was able to capture the ceded market share. The analysts point to the successful Reno5 mid-ranger and the affordable A-series, both of which have 5G models at various price points.
Huawei's decline has been beneficial for Xiaomi too. Interestingly, it and the BBK brands are advancing on different fronts – Xiaomi is eating into Huawei's online business, Oppo and vivo are doing better in offline sales.
China Smartphone Shipments Market Share (%)
Brands
2019Q3
2019Q4
2020Q1
2020Q2
2020Q3
2020Q4
Huawei*
40%
35%
41%
46%
43%
30%
vivo
19%
17%
17%
16%
18%
18%
Oppo
18%
16%
15%
16%
16%
16%
Xiaomi
8%
9%
11%
10%
13%
13%
Apple
8%
14%
9%
8%
8%
8%
realme
0%
0%
0%
0%
0%
2%
Others
6%
9%
6%
4%
2%
13%
* Huawei includes HONOR
Source: Counterpoint
Of course, the sale of Honor also led to a sharp decline in market share. Previously, the analysts tracked the combined Huawei + Honor numbers. The table above shows the quarter by quarter changes in market share leading up to January's upset.
?
The USA is terrified of Huawei. So much for unfettered capitalism. I bought the P20 pro and it is the best phone I ever had. Am curious about their new OS. Is it better than google or apple? Would like to know more about it.
r
Globally Oppo is expensive and unpopular. Realme and Vivo are far more popular BBK brands.
M
Also Xiaomi's software is unreliable. The BBK group never had an issue with the western market, and OnePlus has been selling in the US for years as part of a telcom contract.
ADVERTISEMENTS