CR: Chinese market accounted for nearly half of all 5G smartphones sales in 2019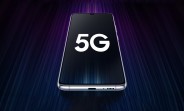 According to the latest report from Counterpoint Research China accounted for 48% of all 5G smartphone shipments in 2019. Huawei (including Honor) captured 74% of 5G smartphone sales in China while Samsung was the global leader with a 40% market share. In addition, the overall smartphone sell-through (percentage of devices sold by retailers) declined by 8% compared to 2018. This is even greater than the global smartphone sell-through decline of 3%.

Huawei and Honor were the only two major players to see shipment sales growth in China throughout 2019 with a combined increase of 28%. Apple (26%) and Xiaomi (22%) had the steepest declines, followed by Oppo (12%) and vivo (6%).
Counterpoint also points out the effects of the Coronavirus on the Chinese smartphone market could be even more severe in the coming months as supply chain disruptions and labor shortages can result in a 20% drop in smartphone sales in Q1 2020. Lenovo and Motorola who have factories in the Wuhan region where the virus originated are expected to be severely affected.
Huawei's shipments are also projected to be heavily affected due to its higher than usual dependence on the Chinese market following the US trade ban. On the other hand, Xiaomi and Honor's sales are expected to be less affected due to their reliance on online distribution. The effects of the virus outbreak on Samsung, Realme and Apple are also expected to be less detrimental as they have a lower presence in China.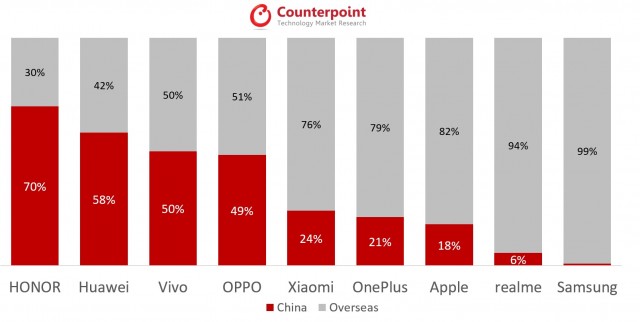 China vs Overseas sell-through for Major OEMs (Q4 2019)
Going forward, Counterpoint predicts a continued decline in smartphone shipments for the Chinese market which may go down by another 5%. The outbreak is expected to be contained by March but the detrimental effects on supply chains and procurement will result in declines for both Q1 and Q2.
?
take china telecom s package for instance , the family plan for 5G is same as the 4G, just need to update the phone
A
I guess the vast majority of them as they are mostly in China. Even if you don't sign up for a 5g package you can use 5g at capped speeds in China if you gave a 5g capable phone. 5g packages in are actually cheaper than current 4g ones though if you ...