The Samsung Galaxy S III is already making its way to its new owners in Europe, so, naturally, the hands-on videos started flooding YouTube. One particular clip, coming from a user in Germany however, has managed to raise a few eyebrows, as it shows the über smartphone in a color scheme, which looks like anything but pebble blue. Instead, the handset appears to sport an color scheme, which sits somewhere between gunmetal gray and chromed piano black.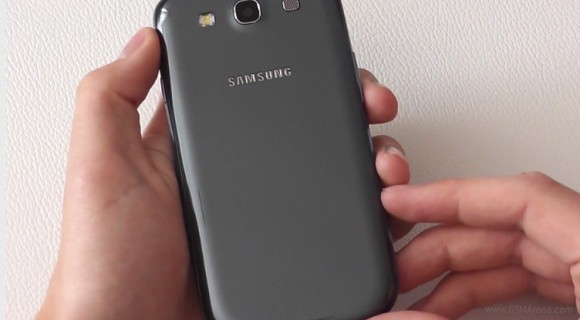 As you might have guessed by now, there is a possibility that the color effect is has occurred due to the lighting in the video. However, given the delay of the Pebble Blue version on the old continent, which we told you about, we believe this particular case is worth a closer look.
Here is the video in question.
As always, we will update you as soon as we find out more about this one. In the meantime, feel free to tell us what you make of it in the comments section.
Source
|
Via
?
more picture of retail version of Samsung Galaxy SIII Pebble Blue : http://www.kaskus.co.id/showpost.php?p=706391039&postcount=1573
?
Um, maybe its just one of the Pebble Blue's with the mismatched panels; slipped through the cracks perhaps. To think this is even newsworthy knowing the reasoning behind Samsung's shipping delay is ludicrous.
l
ok i had preordered in slovakia pebble blue and now i got mail that they will get them beginning of july. metallic blue NOT PEBBLE BLUE so it seems the blue ones are completly off market ...
ADVERTISEMENTS