If you are in the market for a gaming console as well as a TV, here's a deal for you: Best Buy is offering a package containing a Sharp 50" Class LED Smart HDTV Roku TV and a 500GB Xbox One Console for a total of $499.98.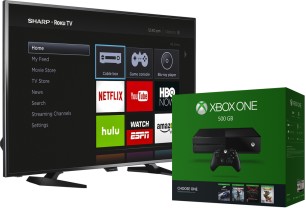 Available 500GB Xbox One Console options include Gears of War: Ultimate Edition Bundle (black), Name Your Game Bundle (black), and Special Edition Console Quantum Break Bundle (in white).
To avail the deal, all you have to do is to head to a specific page on Best Buy's website (Source link below), select an Xbox One console, then select the TV, and finally click the Add to Cart button at the bottom of that page.
?
I live in Honduras central America and we have really high prices for example when the galaxy s7 edge came the price in my country was around 1300$ and united state price was about 800$ so here where the minimum salary is about 325$ we get really ove...
D
True that mate. That's why Qmobile is selling like hotcakes and all the tier-1 brands cost sky high, because the government likes keeping the masses back and only the privileged get the good stuff.
I
It's not about brands charging extra... It's about import duty and taxes from Pakistan. Look at cars in Pakistan. My brother purchased a Toyota corolla for about £400, which is aproximately 55,000 Rs, however the car value is about 4-5 Lakhs....