If you're a Google fan in the US and are planning to purchase the company's voice-activated smart speaker Home, you might want to check out the deal the company is offering on eBay: Google Home + latest Chromecast for $99.99.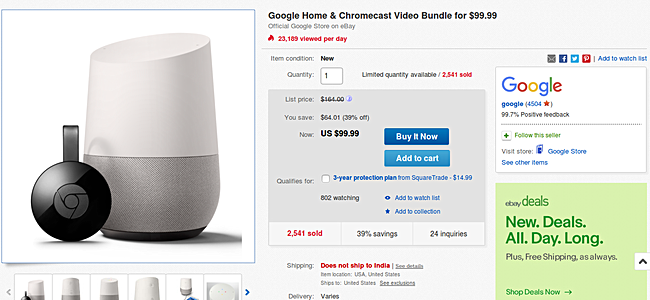 A quick look at the speaker's US Google Store listing reveals the device is being sold for $99.99. So essentially, the eBay deal nets you a free second-gen Chromecast, which translates into a saving of $25 (yeah, Google Store currently has the device listed for $25, instead of the regular $35).
As is usually the case, the eBay listing says only limited quantities are available, and there's no information on when the promo ends. So those interested in availing it may have to act fast. Head to the Source link below for more information.
D
This is quite a deal, but I'd rather get an Amazon Echo or Tap.
D
Phew!!! I woke up this morning, went to the Google store and noticed that the Home speaker and Chromecast were both on sale, so I grabbed one of each. Then while eating breakfast, I stumbled upon this bundle being offered. I head back to Google and...
D
Great deal for a great smart speaker. My personal experience is I first purchased the Echo late in 2014 and learned all the commands and loved it but never integrated into my family as they just would never take the time to learn the Echo comma...