If you are a Sony fan in the United States and are in the market for a new smartphone, here's a deal for you: the Xperia XA1 is currently going for $239.99, which translates into a discount of $60.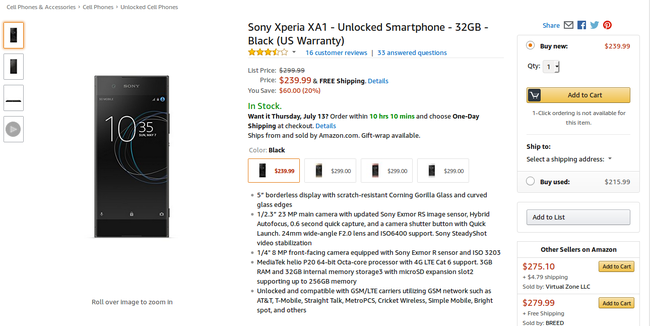 The model on offer is unlocked, and the price cut is being offered by both Amazon and Best Buy, Sony's official sales partners for the device. It's worth mentioning that while Best Buy is offering the discount on all color options, Amazon is only offering the deal on the black variant.
For more information, head to the Source links below.
D
5 hr SOT with a 2300 mAh battery? Don't buy it lol
D
For a few bucks more get a G5 instead or G6 is you're lucky.
?
Not EVERYONE wants the best bang-for-your-buck... Some people don't realize that, some of us just like to buy a quality product. And, it's not like this has 2011 hardware inside it - it's pretty quick and runs good.