This is not the first, second, or third time that we've seen the Nexus 5X go on sale since its release this past fall. This time around, you can get a 16GB Nexus 5X for a full $100 less than the launch retail price of $380 from eBay.
The listing only has the Quartz and Carbon colors available and ship from Nashua, New Hampshire. They even come with the Google Play Music promo card inside the box.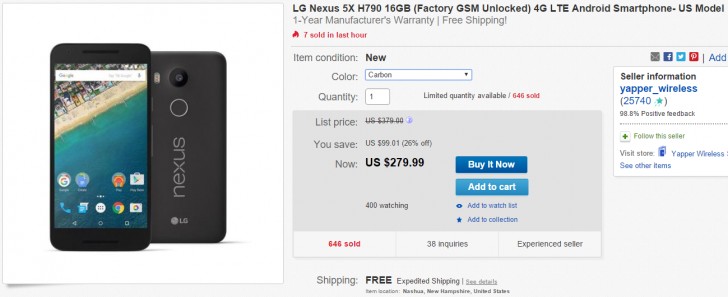 So if you haven't jumped to the Nexus 5X yet, this is a great deal. Though, you might want to hold off for a 32GB model. Still, the Nexus 5X embodies everything the Nexus branding stands for while maintaining a low cost and receiving the latest updates directly from Google.
The Nexus 5X features a 5.2 inch 1080p LCD IPS screen, a 2700mAh battery, Marshmallow 6.0 out of the box, a quick Snapdragon 808 hexa-core chipset paired with 2GB of RAM, all enclosed in great looking hardware crafted by LG.
i
No SD card is what keep me away from nexus line. :(
D
This is a very good mid range phone but if you plan on storing alot of stuff, record 4k video or images, I really highly recommend getting the 32 gig version as no SD slot is present and with the 16 gig, you'll have 10 gigs to play with which will en...
r
But I thought everyone is rich in Europe. /s