Deal: T-Mobile offering iPhone 7 for FREE with trade-in of any iPhone 6(S)(+)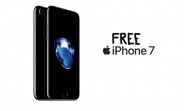 The cat is out of the bag, T-Mobile only recently revamped its tiered data plans and now only offers a single, unlimited plan with some fine text. It looks like T-Mobile planned this strategic move as it announced the new plans not too far before the iPhone 7's announcements.

But even with the new iPhone 7's announcement, T-Mobile isn't slowing down. John Legere, CEO of T-Mobile. Has just tweeted that it will be offering a free iPhone 7 for T-Mobile with trade-in of an iPhone 6, 6S, 6 Plus, or 6S Plus.
Here's the way it works:
Phone must be able to turn on, not have water damage, and can't have a shattered screen
You have to agree to a 24-month finance plan (which will only cost the discounted price) [hint: this is the hook, I'll explain why]
iPhone 7 32GB is FREE, or iPhone 7 Plus would cost only $120, 128GB iPhone 7 would be $100, I think you get it
This offer is "while supplies last" so it could end at any time
Alright so here's the catch. By agreeing to a 24-month "no-cost finance agreement" T-Mobile will put the new iPhone down as a new finance purchase with monthly payments as normal, except the T-Mobile will apply credits to your monthly statement… for the phone that is. You'll still need to pay for service and Jump (or equipment protection). So basically, by agreeing to a free (or heavily discounted) iPhone, you'll have that iPhone tied to T-Mobile for two years.
If you want to leave, there is no negative consequence and it's quite fair: You'd have to pay the remaining balance of the phone off if you want to leave T-Mobile (total cost – credits already applied), or you can just turn it back in.
If you recall, T-Mobile did a lucratively similar offer for the Samsung Galaxy S7 by offering the brand-new phone as a two-for-one deal. This prompted all the carriers to do the same thing. We wouldn't be surprised if other carriers will chime in with similar and perhaps lucrative offers.
n
i just want an iphone 7
g
question i just bought a iphone 7 saturday morning 10/28, but they did not have the color i wanted, can i change it at another store they might have it with not paying a fee???