The Nexus 6 was a well-built Nexus device made for Google by Motorola. This was the first time a Nexus phone went beyond the 5 inch mark, all the way to 6 inches.
A manufacturer refurbished Motorola Nexus 6 can be purchased for just $180 in the midnight black color and 32GB of internal storage. These are unlocked units so you can insert any nano SIM card and receive a signal.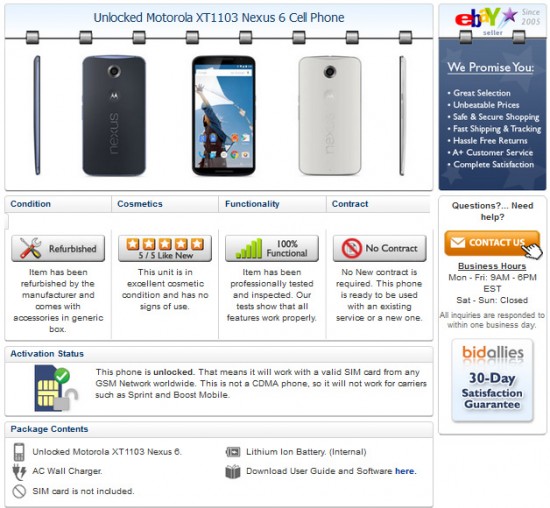 This is NOT the North American variant which is compatible with CDMA networks Verizon and Sprint. This variant will ONLY work on GSM networks.
Google is still supporting the Nexus 6 and it will be receiving the Android N update and is currently eligible for installing the Android N developer previews.
The Motorola Nexus 6 has a huge QHD AMOLED 6.0 inch screen, 3GB of RAM paired with a Snapdragon 805 CPU, 13MP camera with OIS, 3220mAh battery compatible with Quick Charge 2.0, and was the first smartphone outfitted with Android 5.0 Lollipop out of the box.
m
I'm confused here. The screenshot shows the phone for sale as the XT1103 variant, which IS the North American variant. It DOES include CDMA hardware, so theoretically it should be fully compatible with Verizon and Sprint. Why do the post and th...
S
But they don't ship outside the US :/ Damn, I had my credit card in hands already.