Deal: Buy US Unlocked Samsung Galaxy S7 @ Best Buy and get a free $75 gift card
Only a day after the release of the US unlocked version of the Samsung Galaxy S7, compatible with all US GSM and CDMA networks, Best Buy is already running a deal with the unlocked Galaxy flagship. Best Buy has started selling an unlocked version of the S7 specially made for US carrier compatibility.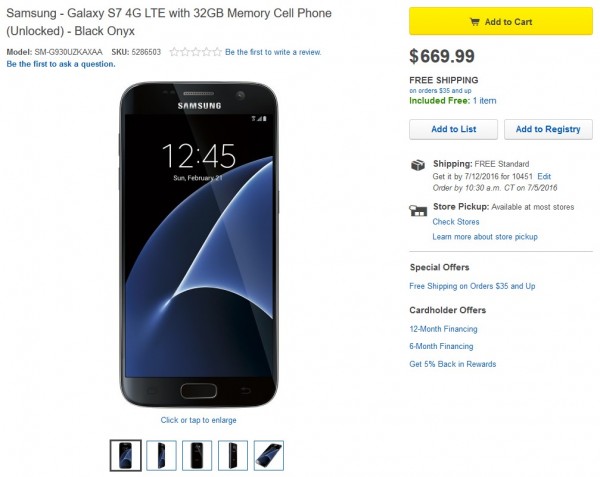 Upon purchasing it from stores for $670, youíll be given a $75 gift card in return which youíll be free to use for another purchase, or collect Best Buy funds as gift cards will never expire. Effectively dropping the price for a new unlocked version of the Galaxy S7 active to $595.

We donít know how long this deal will be going on for, but just take note that Best Buyís price lists are updated every Sunday and their promotions tend to only last throughout the weekend. I think itís safe to say the Gift Card promotion could last until Monday, July 4. as it is a bank holiday.
This unlocked version of the Galaxy S7 does still have the Qualcomm Snapdragon 820 CPU in it and is not the Exynos flavor. As the subsidized carrier model phased away, buying a smartphone outright is becoming more and more popular in the US. I would not have ever imagined the sale of an unlocked flagship phone in the US at Best Buy just a few short years ago.
s
its with packing & accessories and whats is ur final price